Haka and Fine

Beez Neez
Skipper and First Mate Millard (Big Bear and Pepe)
Thu 27 Nov 2014 23:57
We See Our First Junior Haka and Beez Neez Looking Mighty Fine
Wednesday the 26th of November. Bear finished one of his jobs and came in for lunch looking less dirty and black than the other day. I'd like to bimble around the Warehouse. No sooner the mention than we rang Rod and Mary for the OK to borrow Mrs Puki. Off we went to Kerikeri and how marvellous it was to mooch around Bear's favourite shop. That done we filled Mrs P with groceries and made our way to the Opua Yacht Club. The local school was putting on an official Welcome Haka. Yes, most people think of the All Blacks all macho and pouty but there are in fact different sorts of this piece of culture.
We arrived too late last year so it was wonderful to watch the children from the school up the hill. Boats are arriving in and it seems odd to see the same faces as last year having come back from Tonga or Fiji. Although when asked we can say that we haven't "just stayed here???" UK visit, touring in Mabel and three weeks in Australia have padded the gap but some serious jobs have got to be ticked off our individual lists before the girl is really ready to set off once more.
Thursday the 27th. Bear worked hard all day and what a treat to go down and look at the girl. I had to close my eyes walking through the cockpit but as pupa – dads dad, would say "looks alright from the road". Well the Beez certainly looks more than alright from the road. Even Mrs Puki was seen nodding with approval.
From a distance she looks as good as new.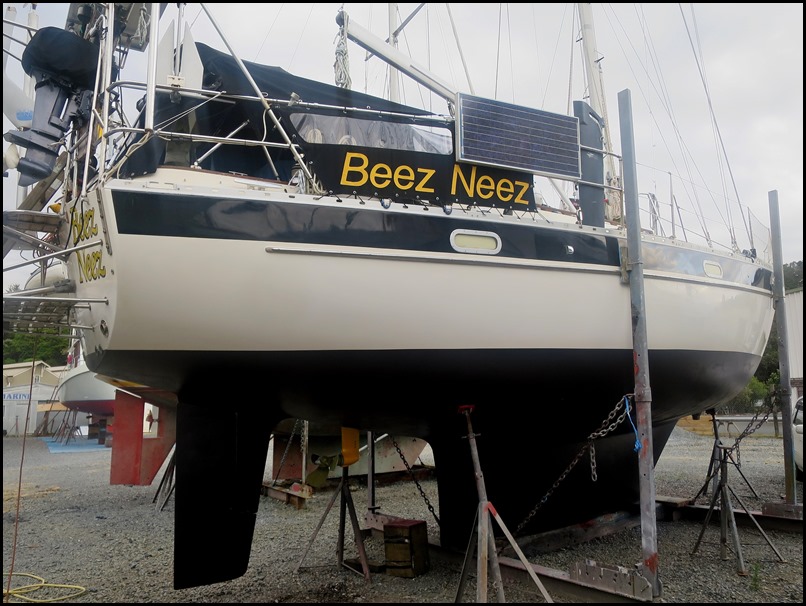 Beez Neez looking pretty seaworthy.
ALL IN ALL ANOTHER STEP FORWARD
COMING TOGETHER BEAUTIFULLY
---