Malaysian Log In

Beez Neez now Chy Whella
Big Bear and Pepe Millard
Tue 1 Nov 2016 23:57
Logging in to Malaysia
We slept soundly after all our chum fun yesterday arriving too late to clear in. We left Beez this morning and made our way to the office for nine thirty.
All peaceful from the other side looking toward Beez.
We sat in reception watching in fascination as a man cleaned the glass doors and polished his work with newspaper – the old fashioned ways are still the best. The rest of the area was very modern and fresh.
What a great advertisement.
Expecting to nip off with the friendly receptionist Bud (name far too complex) and one of the marina chaps in a golf buggy, we were almost disappointed to find it was being used and we were loaded into a big car. A quick look at a flower and five minutes later we were at the ferry port.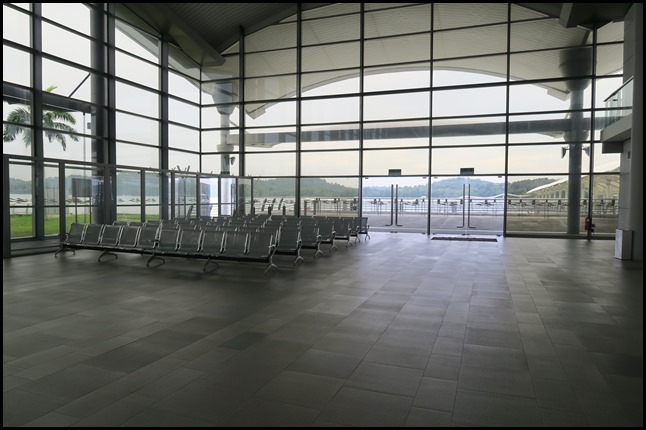 Bud went off with our Passports and we headed for the seats in the 'crowded' arrivals hall.
Looking the other way we blinked and there was Bud returning with an official armed with a neat little box full of stamps. Two index fingers placed on an electronic pad, Passports stamped for ninety days and we were bade an official welcome to Malaysia. Not a penny had left our mitts. What a change from Australia and the drudge and expense of Indonesia.
Next job was to get some local currency. The Ringgit – now known as the wing nut. The fifty note is worth nine pounds and fifty six pence.
We stopped to watch the B52 bomber of the bee world about his work.
This evening we took in the backdrop to the marina.
ALL IN ALL A SIMPLE JOY
SO VERY EASY
---