Day Trip

Beez Neez now Chy Whella
Big Bear and Pepe Millard
Sat 25 Oct 2014 22:57
Day Trip to Russell
First thing the other morning the nice man came back with the anchor and chain, they had had a lovely holiday and looked all shiny and new. Sitting up in my cave I was a little alarmed when Bear pressed the windlass button having given no warning, the bed wiggled and the clattering of chain was followed by the loud thunk as the anchor found home.
This picture is oh so very accurate. I have laughed mine off at the cheeky wins I had at backgammon over the last few days to claw back from seven down to end at three up. Some of the games were outrageous, talk about sneaky. Oops. I'm not one bit popular, that's the polite way of putting it. The rest have been all performed by me one way and the other and as for the last one, well how true, how very true. That's a bit harsh. Well what annoys me is how I fight to get ahead and I'm down by nearly three hundred dollars. Ah well, a fool and his money....... Huh.
Saturday dawned. A day out. Rod and Brenda came to pick us up, we met friend Linda – far left, we were soon settled in the Swordfish overlooking the bay.
What a way to break a strict diet. Had to be done. Bear went for the lamb shank, seen with the view of the pier.
After lunch we took our ice creams to the end of the jetty. We looked down on the crews of the various racing machines. They have just completed a race from Auckland to here – the fastest time, five hours. We would set off and say "see you next week".
Walking back to the car, Bear a little ahead of me, he turned come and look at the Oldest Petrol Station in New Zealand. Oh we've already blogged about that from before. Not like this. Oh.....All too soon we were dropped off by the ferry. We bade fond 'farewells' to Rod and Brenda and wished Linda a good Sunday, the last day of her holiday before returning home to Auckland. She very kindly offered us a place to stay the next time we venture in to the city, sadly we already booked into a B&B post Sydney flight for the Rolling Stones, so excited.
This time next week we will be with my brother Chris and sister-in-law Sue. Wow, the first time in thirty two years. WOW. Cannot wait. Jobs first, then we will be packing.
In readiness for our trip we have begun to watch our nature programs of Australia. Eagles with six foot wing spans with a claw clench of two tonnes, hundreds of thousands of budgies, frilly lizards and of course kangaroos and koalas. So much to look forward to.
A nice one of himself on the ferry home.
A noble lady on the visitors dock and a real Amazon of speed on the Club dock.
Nearing Ashby's Boatyard and Beez we saw the Northland Piler chatting to her bigger land-based friend.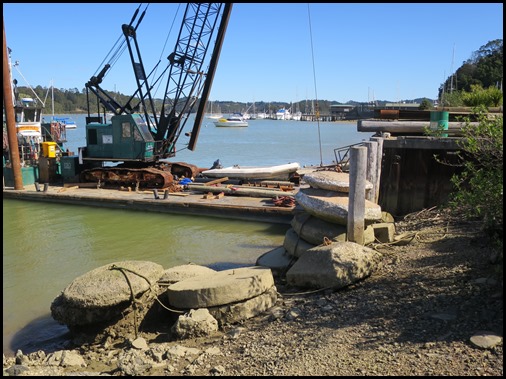 This working girl has been doing a spot of maintenance and checking the two and four ton mooring buoy blocks. They have started the large marina extension this week here for an extra one hundred and eighty berths. Thank you captain.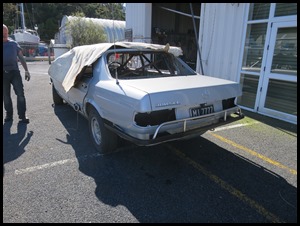 We popped in to see how Chris' beast is coming along. New, mean eye covers and all three hundred horsepower.
We found the yard lady chatting to Beez and her neighbour. Too late for work, shall we have a game and please my I win. Huh.
That looks like a plan. Double HUH.
ALL IN ALL LOVELY TO SEE THE SUN
SUMMER IS HERE AT LAST
---