To Pancake Creek

Beez Neez now Chy Whella
Big Bear and Pepe Millard
Tue 17 May 2016 22:57
Sadly, time to say 'farewell' to Lady Musgrave Island, anchor up at ten to seven. Bear made wonderful sounds....... you have a metre and a half over what you had on the way in. Music to my ears. He stood at the front but I didn't look at him, I was too busy concentrating on following my track in, that done we were out of 'the gates' and out into deep water by seven (well 28.7 metres of water on the Coral Sea to be precise).
Genoa out, a final look back at Lady Musgrave. Four boats were lining up to form a posse.
It's tough at the top.
Whoa, look what just appeared. What a chum.
Huge AND beautiful. There was so much blue the poor camera nearly had a head fit. She pulled round in front of us, turned left and headed for Singapore, due there in ten days time. As usual I will look her up later but for now the AIS told us we were looking at Gaslog Greece (not a very pretty name). This new-looking and massive girl is 290 metres in length, 45 metres wide, steaming along at 17 knots with a draught of 11.3 metres, weighing in at a hefty 111,000 tonnes.
Later on we found a comment from March this year: GasLog, the Monaco-based owner of LNG carriers announced on Thursday the delivery of its 174,000 cbm LNG carrier GasLog Greece. The tri-fuel diesel electric (TFDE) LNG carrier was built by Samsung Heavy Industries of South Korea. This delivery marks the first of GasLog's eight "G-Class" vessels, which will deliver over the next 3 years, GasLog said in its statement. Following delivery, the GasLog Greece has commenced a 10-year charter with a subsidiary of Hague-based LNG giant Shell.
Seven of the eight G-Class vessels have long-term contracts of between 7 and 10 years. Committed bank financing has been secured for all of the eight newbuild vessels, through the $1.3bn newbuild facility announced in October 2015, GasLog said. GasLog Partners has the right to acquire the GasLog Greece pursuant to the omnibus agreement between parent company GasLog and the partnership. Wow.
The rest of our forty one mile journey passed with nothing more to do but enjoy 6.2 knots as a cloud passed over, I know, I'll read out to Bear 'stuff' from the 100 Magic Miles book and what to look forward to in the Whitsunday Islands............, bad choice. After reading about puffer fish, sea snakes, stonefish, box jellies, I went on to irukandji jellies where people have had exploratory surgery, their appendix removed and it was all down to a teeny baddy.....what do these behemoths of the sea look like????
Oh, just great....... Next came Thomas the Terrible Toadfish. Then came reading about the blue-ringed octopus. The advice is not to drape them over your arm or shoulder – are they completely mad (said in a painfully high pitch). If bitten: Speed of action is important. Apply pressure-immobilisation immediately. Give rescue resuscitation if necessary. Get the victim to medical help as soon as possible. Do these people realise I now live with a pensioner and he's male and he can only do one thing at at time and speed barely registers in his calm, idyllic world. It's me that's getting silver threads in the hair. I've got very little left and it's quite white. Hush, you were not consulted to give input here........ Well, dear reader, this has put me right wrong, right wrong I tell you. You may see pictures of me in very shallow rock pools – wearing my yellow Croc wellygogs, as for getting my entire body submerged – may not happen until at least Phuket....... All I can say is there was no mention of crocodiles anywhere in the book but I feel we may keep our eyes peeled.........
The posse behind us.

Bustard Head and Lighthouse.
We like to look up our night safety guardians Wiki says: Bustard Head Light is an active lighthouse located on the southeast tip of Bustard Head, a headland, about 20 kilometres (12 mi) northwest of 1770, Queensland, Australia, within the Eurimbula National Park. Built in 1868, it is the second oldest lightstation in Queensland, following Cape Moreton Light, and the first to be built in Queensland after its formation in 1859. It is also one of the first in Australia to be constructed using bolted prefabricated segments of cast iron, and one of only two such lighthouses in Queensland, the other being its sibling, Sandy Cape Light. It serves as the central relay for Dent Island Light, Pine Islet Light and Lady Elliot Island Light and as the radio check post for Cape Capricorn Light, Sandy Cape Light and Double Island Point Light.
Bustard Head was named by Captain James Cook in 1770, in honour of a bustard which was shot and eaten by the landing party at the location.
Plans from 1865, the lighthouse in 1932.
Lighthouse and grounds in 1934.
Noami Russo wrote for the Australian Geographic on the 29th of June 2015:
On the 29th of June 1868 the Bustard Head Lighthouse in northern Queensland was lit for the first time. Intended as a beacon of safety on Queensland's treacherous shores, the lighthouse's construction was nonetheless marred by tragedy. A workman was struck on the head and died whilst working on the remote building. It was to be the first of many deaths.
In 1887 Kate Gibson, the wife of the Bustard Head lighthouse keeper, disappeared. Her children found her with a slashed throat not far from the lighthouse. Her death was ruled a suicide and she was buried on the Bustard Head grounds. At the time her heartbroken children wrote a devastating epitaph for the Gladstone Observer:
"We cooeed our best at dead of night
The dread it could not hear us
The children cry 'Oh Mother dear'
What keeps you from us
With weary anxious eyes we search
O'er sand, ridge, scrub and bush
But the warm heart was cold in death
Of her who gave us birth"
Ongoing lighthouse tragedies: Just two years after Kate's death, tragedy struck the Gibson family and the lighthouse once more. The keeper Nils and his 20-year old daughter Mary left Bustard Head in a sailboat, with two others. The boat capsized in the treacherous waters and only Nils survived.
This was almost the turn of the century. Less than a decade later Milly Waye, who was born at the lighthouse, died at home. The two-year old was burnt by boiling water and the injuries, after nine hours of agony, proved fatal.
It seems hard to believe, but in 1912 tragedy struck again, this time in the form of a still unsolved crime. The daughter of the lighthouse keeper was abducted whilst returning home and the man with her shot.
With his dying breaths he identified the attacker as a local boy, but neither the daughter nor the accused were ever found. It was alleged that the attacker, the dead escort and the girl had all been caught up in a twisted love triangle. The search for the two became the most expensive police search Queensland had ever seen.
These tragedies and others have been documented by Stuart Buchanan, a lighthouse keeper at Bustard Head during the '70s. His book, Lighthouse of Tragedy, recounts the disasters that befell the Gibson family and that continued to dim the light in keepers' lives for decades.
The story is one where truth is stranger than fiction and tragedies strike more consistently than would be believed if it weren't all documented.
Lighthouse ruins resurrected: In 1986, more than a century after the light was first lit, the light at Bustard Head was automated and keepers decommissioned. Empty of people, hardship befell the building. Despite heritage listing, for the following decade and a half the lighthouse was vandalised, damaged and looted.
Former keeper Stuart Buchanan was devastated by the damages and when the chance came to submit an _expression_ of interest to restore the lighthouse, he formed the Bustard Head Lighthouse Association Inc.
The only problem – the association fell far short of the $472,000 needed to restore the lighthouse and surrounds. But with the help of a federal grant, a 20-year lease and an interest free loan of $120,000 from Buchanan's wife, Shirley, the restorations eventually began.
Sadly, tragedy struck Mr Buchanan himself when Shirley passed away in 2012, just 12 months before the lighthouse complex was re-opened.
What a story, a lighthouse with an incredible history.
This aerial picture of the lighthouse was taken by Stuart Buchanan. (Clews Point to the north).
Middle Rocks away to our left.
Outer Rocks away to our right.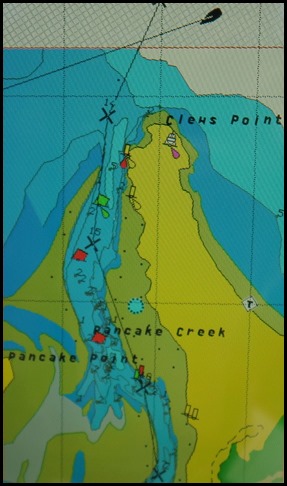 Passing Clews Point into the shallow but marked channel.
Pancake Creek anchorage beyond Clews Point. The red looked like a rock hugger and the green marker was a stumpy little chap.
Clews Point Light – flashes white 1.5 seconds, with a range eight miles.
Cheeky, tiny rips over the sand bar to our right. 1.8 metres below as we crossed to find 4.0 metres.

Said stumpy green behind us.
Anchored, we see the posse approaching. A pretty, sandy beach to our right. I was trounced at backgammon but more than made up for the pounding I gave Bear at Mexican train dominoes. Payback........ Mmmmm.
ALL IN ALL A NEW GAS CARRYING CHUM MADE MY DAY
NICE DAY BUT JOURNEY A BIT ROLLY
---