Rikitea Bimble

Beez Neez
Skipper and First Mate Millard (Big Bear and Pepe)
Wed 12 Jun 2013 21:37
Our First Bimble Ashore - Rikitea, Mangareva Island in the Gambiers
We ventured off on Baby Beez and parked next to the red patrol boat. A visit from Adam (Gallivanter – first met in La Playita, who presented us with a hand of bananas) had given us valuable information as to what was where. So wonderful to hear that nothing has to be locked and if we were to put Baby Beez in anyone's way, she would just be moved by the very friendly locals.
We pull in next to the little ferry. A very smart emblem on her side.
We find a hedge of closed hibiscus, a bright poinsettia and a smart main road.
The Health Centre.
Many flowers and shrubs along the road.
Neat gardens in front of the dramatic backdrop.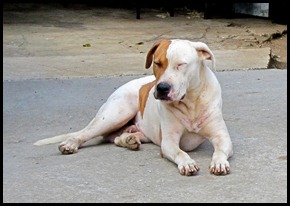 After visiting the cathedral (own blog) Bear loved what he called a half caste. Then a new friend shyly wagged himself to a totter before the skipper said hello and made a friend for life. Everyone we met greeted us warmly with a big smile, car drivers waved, scooters and push bikes alike.
We gathered more friends who accompanied us, passing more neat gardens.
First to the post office where Bear changed dollars into...........
.....local money. This 10,000 Franc is worth seventy one pounds and twenty pence.
The 1,000 note.
Past the travel agent, the plane leaves every Thursday for Tahiti. Behind this building was a fast food take-away, open at three selling allsorts, but the thing we recognised was a burger for about five pounds. We are REALLY struggling with French and keep saying Ola instead of Bonjour and Gracias instead of Merci. I can think of all the words I need in Spanish but am utterly blank in Francais.
Next was a visit to the Gendarmerie to log in, a single form, all done in five minutes. The very attractive gendarme who spoke pretty good English said we were to stop by and say farewell as we left. We are to say hello on any island with a gendarmerie, not bother if there wasn't one (we can follow that logic) and officially log out on Tahiti as we leave French Polynesia – simple. No palaver and no-one poking around on Beez. "Have a wonderful stay, diesel buy from the ferry next week and see Alice to pay F1000 (about a tenner) to throw our rubbish per week". Sitting waiting for the skipper to fill in his form I was bitten by a mossie, no swelling and only a little itch, not bad at all. Our friendly policeman told us to use a little spray in the afternoon as its winter. Back to the post office to send our Immigration Form to Tahiti. I asked the man behind the counter how to pronounce Gambier, he told us "Gom-Bee-Air".
Time to find the bakery. A little way down the road we stopped under a tree to wait for the slight downpour to move. The left of this picture is dry, the right it's raining. Five minutes and we were on our way.
This cute little church was closed to preserve it.
An unusual picture of Beez through a garden.
We found the supermarket where we found just about everything. Bear bought me a one and a half litre bottle of Diet Coke for three pounds and sixty pence, no more of that then, powdered juice is me.
The baker had told us the bread would be ready in half an hour and outside the supermarket there was the real deal ice cream machine – would have been rude not to. Our strawberry and vanilla mixes were one pound and eighty pence, next time I will ask for half size as this one seemed ever ending. We would never have thought to be so far from anywhere eating a Mr. Whippy lookalike.........
The massive but friendly wasp had to rest after I gave him a little dollop...... Fresh bread and ice cream could be a downfall for the hips, must watch it and ration.
Home with our hot bread, so good just with butter, a dollop showing on the skipper.
ALL IN ALL VERY SMART
QUAINT BUT NOT POOR
---