Deltaville Marina

Beez Neez now Chy Whella
Big Bear and Pepe Millard
Fri 5 Aug 2011 21:47
Deltaville Marina
We are woken each morning to the sound of the osprey chicks demanding breakfast which makes us laugh, the nearest nest is just a row away from Beez
Obviously no swimming in the marina.........
.........however, the lovely pool makes up for the 'itch-arses' as I have come to refer to the swarms of jelly fish
We have settled in really well to this smashing marina. Jobs in the morning, late lunch and then a dip in the pool before a game or two, supper and a DVD. Much thought has gone into the comfort of the yachties who arrive here; many like us to shelter in a hurricane hidey-hole and do the end of season chores. This is our last big overhaul before the Pacific Ocean crossing, so the research begins and quotes arrive. To our surprise Hunda is at anchor, we see Duncan and Dorothy at the pool; just as in Trinidad where we met them. Apparently we missed Anthony on Wild Fox by a few days but he is due back mid-August.
The marina has a car for our use, $1 goes toward fuel and we can have it for an hour at a time, very handy for us to get the sails to launder and repair, nip out to the local supermarket and book Dennis to come and measure for our new mattress. There are two West Marine Chandlers and Bear is finding his way around them quite well. There is a hardware store called Hurds, which the locals call "The Mall", it is one of those treasure troves that sells just about everything and the girls are knowledgeable, know where to find everything and are really happy in their work.
The marina also lets yachties use the Huffy bikes, "No Brakes" I was heard to say with alarm. No, these are the ones you pedal backwards if you want to stop. I have already measured Hurds to be a mile away; on the flat, but our first venture will be Saturday night when we go to the Crab Feast - all you can eat from 5-10 and a band called Arrowheart from 8-12 all for $25. No bets as to whether it will get a blog of its own.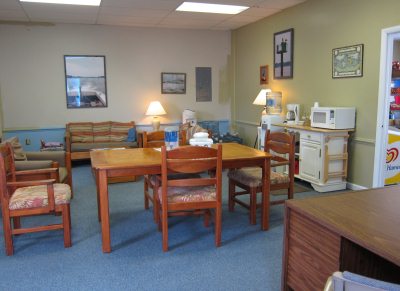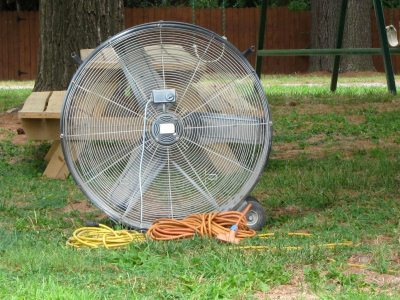 The bright marina lounge, is air-conditioned, water machine, microwave and coffee machine, TV, book swop and notice board. On the desk is a hard wire for fast internet, although we get good wi-fi on the dock (all included). There is also a telephone where we can make all local calls free of charge. The information folder is a font of knowledge when it comes to finding local marine trades. Bear thinks the fan in the garden is a bit over the top.
Dorothy found the number for the Dollar Bus - a non-profit bus to the nearest Wal Mart (which happens to be massive), you have to give twenty four hours notice to get a seat on the bus. Game for that, Bear and I joined them at twenty past ten for the forty minute ride to Kilmarnock. The surrounding area is flat, green, with some pretty 'southern style' churches and great names. The health centre at Northern Neck caught our eye. The surrounding towns and counties make us laugh, Kent, Sussex, Gloucester, Essex, I must find a map and put it in a blog. We were dropped by the bus at eleven and picked up at one thirty, perfect. We did a full shop and had time for a snack in Subway at the front of the store. The bus is paid half by the County and half by the Government, the one dollar each - each way - is a token payment. Well all we could say was where in the UK can you get a bus for that price over that distance, door to door, we'll be doing this again. Apparently many people in the area depend on this service to get to and from work.
Was that Bear posing by a Harley Davidson, no he was really by the marina cart going back to Beez with our shopping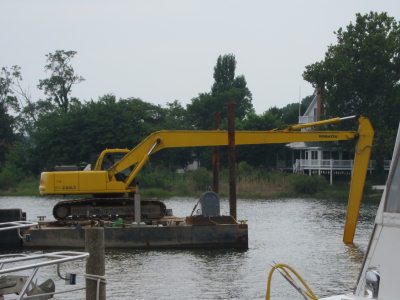 Bear was highly entertained when the non mechanised dredger pulled himself in and began work
We came in through the tight buoyed channel to the marina with very little water below us. When the dredging is finished it will be nine feet deep. The cost is $97,000, a thousand dollars per local business, the rest made up by a Central Government grant and a local Council grant. Many creeks are offended as they have not been treated in the same way.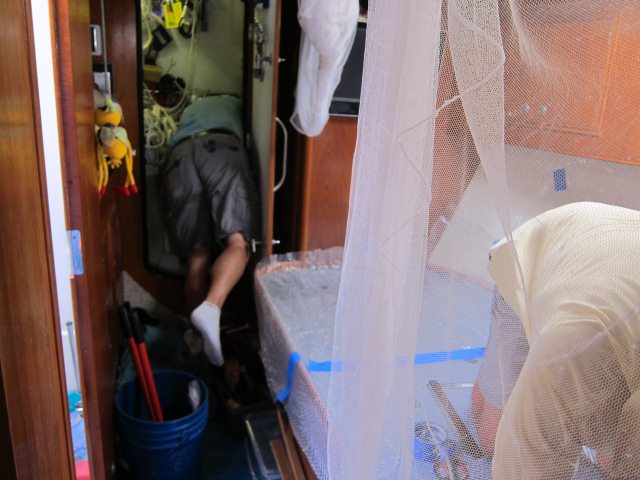 Just like all good policemen and buses, Dennis and Jim arrived together. Dennis to make a template for our new mattress (the old one was last seen jumping into his truck) and Jim replacing the frazzled fuse to the bow thruster and reconnected one of the control wires, it now sounds like a throaty beast and the front swings both ways.........beware jelly fish.............
We have had Clifton down to take pictures of the standing rigging, quote to follow. I have ordered new plastic to put in the pram hood. Bear has changed the engine oil and filter and Shaun is on the case sourcing the new batteries.
So with all that and feeling the job list is getting a tiny bit a small dent; it was time for a couple of Bear's superb boiled eggs - although one of his was trying to escape.
We have chatted to John about our haul out on Monday, we will be at the back of the yard with an electric supply. The yard and the marina are actually run as separate businesses by brothers, but for the princely sum of one pound thirty a day each, we can use the showers (best I have seen for extras - paper toilet covers, hair dryer with mousse, ladies products, ear buds, bug spray even a weighing scales - must stay away from that at all costs), use of the car, use the swimming pool, laundry (complete with iron, ironing board and spray starch, spare buttons, needle and thread), lounge, wi-fi internet on Beez, BBQ, all local phone calls and marina bikes. Bargain.
ALL IN ALL A GREAT LITTLE MARINA
PEACEFUL AND FRIENDLY
---