To Lumbini Digs

Beez Neez now Chy Whella
Big Bear and Pepe Millard
Tue 10 Apr 2018 22:57
To Lumbini Digs – the Finale to the Road IS Hell
Finally after six bone-crunching hours we were not only on the flat but on a sealed road in a fairly big town with decent buildings.
Praise Be, we were on a dual carriageway.
Just ten minutes of smooth road before once again spleen-bruising bumps, mud and gravel piles.
More chaos as everyone tried to find the route of least pain.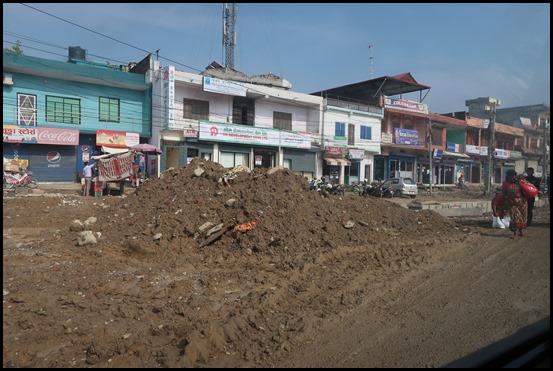 More mud. As this is the main road to Buddha's birthplace, posh hotels planned and digs to hold a thousand pilgrims approved, we had expected a little more.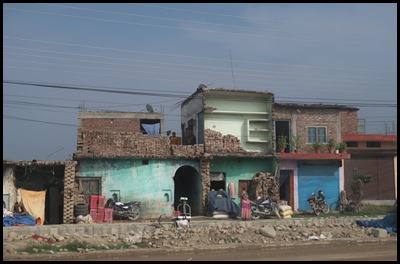 There is a sense that this is a permanent way of life that must be awful in the wet season.
An overloaded lorry one might think.
We now left our side of the dual carriageway altogether.
A short, smooth bit of mud acted as a car park but it soon became bumpy.
Hurrah, finally, after so many sleeping diggers we finally see one in action. Why oh why don't they all work together and do a foot a day. Bear reckons that of the hundred and five mile journey, eighty five was on bumpy mud, ten was decent and ten was, although sealed, was in a shocking state.
Wow, we reach a gate that tells us we are nearing the enclosure of protected park of Buddha's birthplace (Lumbini Development Zone, four kilometres by two and a half).
Not yet finished with the bumps though.
An English boarding school was a surprise sight.
Must be getting nearer, Buddha complete with mud piles.
The 'norm' for buildings in the town.
Ten minutes later, we stopped as Bear had to navigate. Our driver had no clue where to go so it was just as well Bear could pull it up on his mobile phone map. Our driver wanted to go right but we wanted to be opposite the final gate on the map (bottom left). You would have thought our previous digs or our driver would have gone on line (as everyone is able to do), but no sooner than Bear had pointed the way our driver began the "are we there yet". Of the fifty or so digs we passed, all had the word 'Buddha' in the title. And there we were.
Finally, the Little Buddha Hotel came into view. Relieved, we scrapedOur driver told us how tired he was and to be honest if we weren't so angry at his driving we would have bought him supper and a bed for the night. Another hour of steadier driving with no skids and checking out the eyebrows of several lorry drivers would have seen a tenderer side in either of us. Instead, we shook his hand, bade him a safe return journey and turned to our digs.
Reception formalities complete and having asked for a quiet room (so wanting to escape beeping horns), a nice youngster with no English showed us to a room on the second floor. As we went up the stairs our worries were confirmed on seeing the paintwork and view at the top of the first floor.
Before moving on we always check our booking a few days beforehand. This hotel we found, was no longer supported on the Booking.com website. Hmmmm, we wondered why, but when I emailed our ETA we received a quick and very pleasant welcoming reply. OK then.
We were shown to a room at the front of the second floor. Hating it on entry, I was ready to leave. Through the main door a smelly shower room, a big kitchen/lounge with a grotty sink (no kettle or anything) and a huge old, damp mirror perched on the draining board. One look in the sink and a smooth sweep to the dank bedroom. Beds's ears went flat across his head and he refused to get out of my bag and shrugged down to make himself look smaller. A quick look at the bed and the number of ants who seemed right at home and I shook my head. Our young guide got on his mobile and helpful from reception came up and took over. He showed us to the 4th floor (no lift) at the the rear of the building.
Tired, we were ready to give this room a go. Beds settled well, bed linen stained, off colour but clean. Note bare wires where over bed lamps should be. We had a dressing table with a bare wire over....... where the lamp should be. Oh well, at lest Bear colour-matched the walls. The shower room was clean-ish and the winner was piping hot water (such a welcome change from our last digs that was always cold), although we did have to press in a very sharp button (no nozzle) to make the water flow. Remedied the next day when all the rooms on our floor were not only empty but the keys were in the locks, I nipped in next door, took the nozzle and screwed it onto ours. We still had to press it in but it no longer hurt our thumbs. Downstairs for a really tasty supper, we went to bed feeling quite nestled.
View from our rear-facing windows looked over the hotel laundry, below which we assumed were staff quarters, kitchen and restaurant, beyond a nearly finished hotel like so many others around.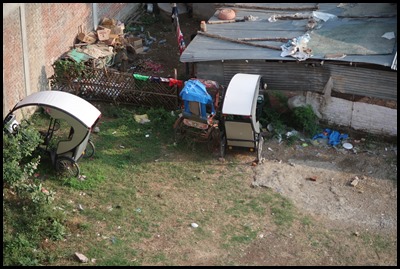 To our right, deceased tuk tuks and looking to the right a line of pilgrims.
En route to breakfast the next morning we found the room with the electric back-up system. Bear, not looking too bad after yesterdays journey from hell, he settled to a good breakfast, served by friendly staff and a good cup of tea. Fit and now ready to explore.
Outside, a look up at the side of the building from the bus station. Our room 4th floor at the far side.
ALL IN ALL MOT TO BE REPEATED - EVER
EXTRAORDINARY WAY OF DOING ROAD REPAIR
---