Beez to 11/11/18

Beez Neez now Chy Whella
Big Bear and Pepe Millard
Sun 11 Nov 2018 23:57
Beez Progress This Week to the 11th of November 2018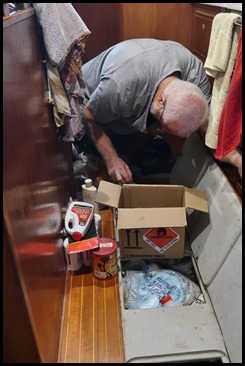 Monday 5th. Just today and tomorrow to go before we launch. Yeeha. Bear began by sorting his part of the storage below the kitchen, I did mine last week. When we first got Beez we vied for space, this one was easy – one each. He put some tools in his shed then I bade him get on outside as I wanted to put the final coat of varnish on the two main door parts. They had to dry on boxes on the bed as it was non stop rain and Bob is still sanding next door. Bear came in for a cappuccino, I had Horlicks and we played a game early. I won, growl and suddenly it was lunchtime. Bear went to gather the final things from store and I put a coat of white around the hatch inners, a few touch ups and a coat around the windows. Time for a bit of admin before beginning to sand the next bit of kitchen. Bear cleaned all the fittings for the mast and laid them in place for when the boys come aboard on Wednesday. Shower, supper and a game of Mexican Train, I won yay. More deep growling. Looking forward to the final episode of Shadow Lines, always been good for much bloodshed. Mmmm hold that thought, I look down and see a mark on the kitchen mat, and another, and another – worried that somehow I have dolloped varnish I check just in case I need thinners, it's red. It's blood are you bleeding ??? NO. I look down at what I thought was chipped nail polish on my big left toe, no the top right quarter is broken and evidence of blood, but dry, the dollop I just prodded is newly wet. Oh, it's me, the end of my middle toe is mashed. I suppose I should sympathise as he has no feeling in it but just then I happen to look into the bedroom and there are more marks and on every other step coming in from the door. Several minutes of bending over with a sponge.......the carpets and mats made it through all of a few days...... Monday done.
Tuesday 6th. Bear began with tidying the cockpit, more tools away. Then we both headed toward the mast. Bear did cleaning, checking and getting bits and bobs ready for the morrow. I stuck new reflective tape and sets of B and N's, so we can find the girl in the dark, then I headed back indoors. I cleaned the fans, yet another loathed pink job followed by finishing Mr Dickinson – growling and a gentle canter around with the hoover, second coat on the kitchen and reconstruct the locks on the main door. The best part of the day was watching the skipper put the steering wheel back on. When we went to shower I stood in place and my, oh my, Beez beak seemed a long way away. After supper I was thrashed at Mexican Train yes but who won backgammon after lunch............ but, no buts. Time for some NCIS.
Wednesday 7th. The alarm went off at seven. Launch day (own blog). Up and breakfasted ready for when the boys came to move the mast to the front side of the shed. James moved us out at nine. Crane man came at ten, delays whilst everyone discussed strops. Finally the mast went up at eleven thirty. We spent the next two hours attaching bits and bobs enjoying the warm sun for the first time in ages. After lunch we went to the office to hand over the ninety pound crane hire money, I cleaned the pram hood supports and Bear attached ropes to hoist the boom from below. I winched it up as Bear and Shah held it away from the girl. Soon attached along with the support, James appeared at four. He told us we would overnight on the Bunkering Dock. Off we went, trundling slowly toward the water. Lowered, we could hear Beez delight as her feet got wet for the first time since we lifted on the 25th February 2017......
Thrilling to see the skipper enjoying a moment, very satisfied and happy to be bib-bobbing once more.
Thursday 8th. We got up to potter after Bear turned Beez fridge on, once again something hummed to life at the first asking, we were told one thirty was a convenient time to move over to our slip. Razali came for a first fitting of the pram hood and shed at midday. We watched him for a while then Bear went to do some wiring at the mast and I washed the little fridge as the big one was cold enough and then I prepared gule chicken and black bean chicken for Bears next two suppers. Razali spent ages getting things just so and went off with some tiny alterations to do and add the zip that will hold the shed to the pram roof. By the time Razali had gone it was well past four so we didn't move and settle on our slip until four thirty.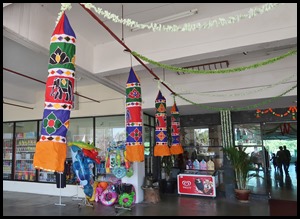 The heat of the day had taken its toll, (along with days and days of starting at nine and ending at seven) on weariness and not wanting either of us to begin a new job I insisted we went for a swim. Bimbling to the hotel (our home for January and February when Beez was in such a pickle) we were delighted to see Deepavali lanterns at the entrance and a lovely rice decoration in the foyer. Then sadness as new management has decided no pool use for non-residents. A chap in charge could see our crest-fallen looks and kindly said that "as you are here please swim". The waterpark opposite has a new happy set up but the pool was in poorly condition, one end cordoned off with a number of tiles missing, the water pretty murky and unloved.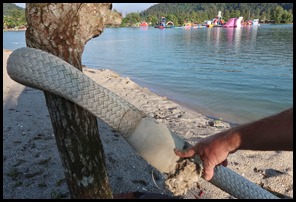 After a nice soak where Bear stretched and exercised his poorly right shoulder, we sat until the sun went down and then wandered along the beach (well more like a sandy bit covered in billions of tiny snails and way too shallow to swim in) to see a new floating 'dance floor' outside the hotel next door. The island was held in place by an impressive bit of string. Beyond that we were pleased to see the grouper pool was still there but not expecting to see either of the giants as it was high tide, wow, one of the chaps came up to see if we had any food then glided out of sight. These fish can grow to about two and a half metres and weigh in at three hundred and sixty kilograms, these warm water chaps have a massive range unlike their Atlantic cousins who are now Critically Endangered. Back to the marina for showers and then Bear ate his gule (a spicy Indonesian dish), I lost at backgammon – probably because we were playing post supper not post lunch so it was only right and proper to hammer Bear at Mexican Train. One episode of NCIS and tired people nodded off.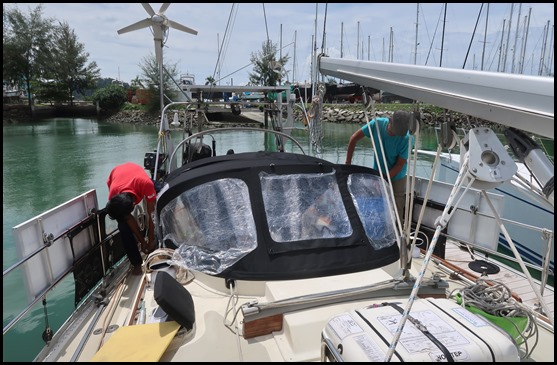 Friday 9th. Too humid to varnish I set about white chalk painting, a second coat around the windows and finding any ceiling bits that needed touching up. Bear carried on with electrickery at the bottom of the mast, this time working in the bedroom. At midday Razali turned up for a second fitting of the pram hood (the plastic is presently covered with protective film), he is really doing an amazing and careful job.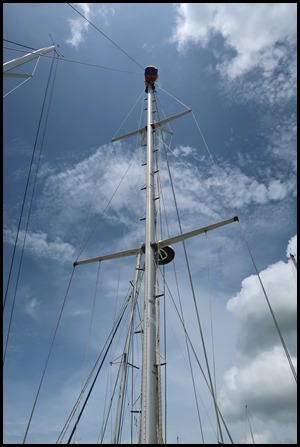 With Bear's poorly shoulder I got to go up the mast to fit the two wind instruments, thrilled that I didn't drop anything and the job went easy. There was a lovely breeze at the top and it's quite amazing how I could feel Bear stomping about and the slightest movement of Beez gave me a really good swing. Razali shuddered and worked until it was time to go to Friday Prayers. We settled to lunch. I lost, growling........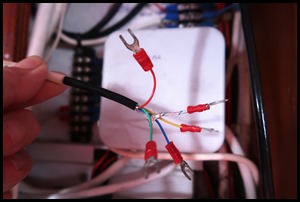 Bear ached too much to do some wire connecting and I was pleased to be asked to do the job for him. He had lain on the bed to supervise and I was delighted he went soundo for half an hour, he had looked quite shattered. He got up and busied himself and I went back to chalk painting. As I went to duck under to see beyond Mr Dickinson I missed and slopped paint on the draining board. Thankfully it didn't go anywhere else but still took ages to scoop up what I could, wipe the surface and clean my hands, the edge of the tin and my brush.
Time to update the blog for a while....
The new pram hood and shed in place. Razali is coming back tomorrow to fit the back panel and sides to complete the conservatory.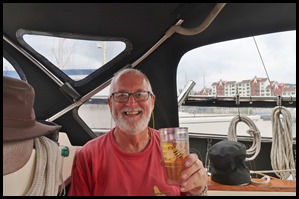 During the afternoon Bear had fitted the mainsail stack packs and completely finished replacing the staysail and cover. Time to sit and enjoy a shandy in the new gazebo (as no sides just yet). Bear went to shower whilst I scrubbed the cockpit, a need to get rid of the dust of the shed we had been under for such a long time. Bear came back for supper, I went to shower and after a couple of Tri-ominos (Bear too tired for anything else) we settled to one episode of NCIS.
Saturday 10th. I began the day by sitting in the cockpit to see if I had missed any dirt (it had been dark by the time I had finished last night). I saw dust on the instruments and not possessing sweaty fingers, I gently, really gently rubbed a fingertip over the glass covers, the final one went 'tat' and fell inward. Bad words...more bad words....The four screws holding the panel in – no - the whole thing had to come out held in with twelve. The black plastic outer cuff of the dial was brittle, broken in a few places and must have been held in by sheer whim, I was just unlucky to be the first to touch it, however gently. Bear felt sorry for me and stopped what he was doing and rummaged in his tool shed for a replacement. A case of one step forward, three sideways and two back. Yes, but the girl is coming together beautifully. Not if I keep messing up. Grabbing the fallen dial by the neck, new cuff in place and ...... Razali appeared. Job shelved, I went back to varnishing. After lunch Bear beat me five two and then set to work on the mainsail.
I asked Razali if he would ever do another "NO", very difficult". He will return on Wednesday.
Sunday 11th. Cannot believe another week has flown by. We began by sharing power hosing the girl. I left Bear replacing some of the worn out deck fittings that we brought back from the UK. I cleaned and top coated the sea toilet. After lunch (I lost – major growling) Bear reloaded the lazarette, that old nugget, he must have missed rummaging, then got down to the serious job of checking and altering the tension of the rigging, the rest of the day ooo all sorts of little things. I cantered around on the hoover and dismantled my varnishing crate stowing 'stuff' in my cubby hole under the kitchen floor. Somehow we kept going until eight o'clock, late shower and supper. Too late for Mexican Train so we had a game of Sequence, I lost, even more growling.
ALL IN ALL A MAHOOSIVE STEP FORWARD
GREAT TO BE ON THE WATER, NEARLY SEAWORTHY
---