To Sideman Valley

Beez Neez
Skipper and First Mate Millard (Big Bear and Pepe)
Fri 16 Sep 2016 22:37
To The Sideman Valley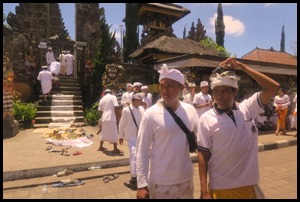 We left Lovina Beach at nine this morning for the three and a half hour journey to the Sideman Valley to find the Bali of yesteryear away from the hordes of tourists and town bustle. A wiggly road took us through many villages celebrating the Yellow Festival.
We ate buffet lunch with a view over Mount Batur.
Sadly, the Volcano Museum was closed.
We had to pay seventy five pence for these views.
The villagers here have a lookout complete with desk and stop all cars to collect the 'view levy', the saleswomen were ruthless but lost out with us.
After a hideous experience at Bali's biggest temple where the locals try to con money to be your 'unofficial guide', we watched a village processing with offerings for the Yellow Festival.
Wonderful to get out into the countryside.
Our haven (on the left for the next three days) to feel Bali of the olden days. The pool at the bottom of the garden.
Our quiet villa owned built and owned by "a man from France".
Mod cons and a beautiful, traditional ceiling.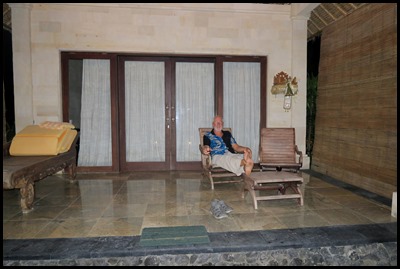 Beds in bed as Bear test drives the patio.
The villa manager organised a lift to his restaurant in the village – first time to see lettuce on a fruit platter. Back to peace and quiet.
ALL IN ALL THE REAL BALI
INTERESTING VIEW OF THE INTERIOR OF THE ISLAND
---