Day 3 to Vanuatu

Beez Neez now Chy Whella
Big Bear and Pepe Millard
Fri 23 Oct 2015 12:00
Day 3 to Aneityum, Vanuatu
The second I had done yesterdays position ping and loaded the blog, it was if someone switched the wind off. The wind is indeed a fickle mistress. On went the engine and as the swell was a bit bigger Mexican train dominoes was off the list. I suffered a five one loss at backgammon but pulled a few dollars with some Rummikub wins. Bear had an amazing draw in one of the games.
The sunset was 'sun there, sun gone', but we were left with a pretty soft sky.
Lovely to see things were normal aboard..........
This morning I had a fiery sunrise just after five. When we near Vanuatu the clocks will go back an hour, seems really odd that the day will begin even earlier.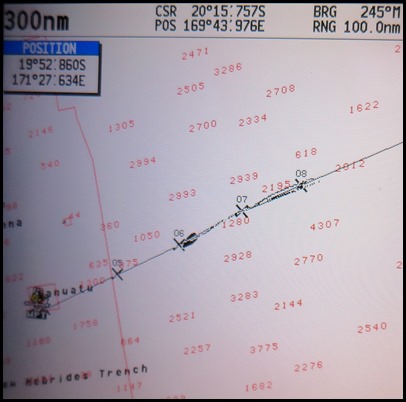 I had a really good sleep and en route to the cockpit, nipped into the office to change yet another DVD from the last big purchase. Well....... colour me happy, the chartplotter told me we had one hundred miles to do. We'll be in tomorrow morning – how exciting, a new country for Beez.
Outside the sea was a beautiful blue and Beez barely caused a splash as she glided along.
Flag ceremony. It seems ages since we've got a new flag out of the collection. All that remains of the poor Fijian flag that suddenly disappeared one day. Bear doing his skippers duty.
In the last twenty four hours we have covered 132 nm
Total so far 373 nautical miles
Today's Position: 219:55.74 South 171:15.37 East.
ALL IN ALL ANOTHER LOVELY DAY
A COMFORTABLE DAY
---