Noosa Heads

Beez Neez
Skipper and First Mate Millard (Big Bear and Pepe)
Mon 9 May 2016 22:47
Noosa Heads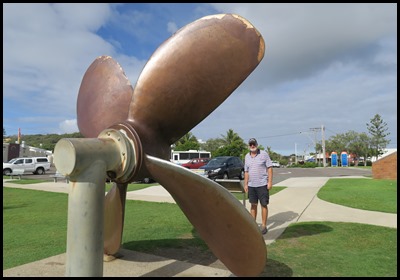 We began our day with Jim and Pam taking us to Rainbow Beach. En route to look at the seaside we had to have a look at this awesome piece of kit. This propeller was recovered from the Cherry Venture with the use of a thermal lance by Bill, Tony and Bruce Dunne of Caloundra in December 1985, it was later purchased and restored by the Rainbow Beach Business and Tourism Association Inc. The propeller has a diameter of 3.7 metres, weighs 4.5 tonnes and interestingly, is made of solid stainless steel.
The Cherry Venture was forced onto Teewah beach 2 kilometres south of Double Island Point on the 8th of July 1973 during cyclonic conditions with wind gusts up to 125 kilometres per hour, 14 metre high seas, and extremely heavy rain. At the time, the Cherry Venture was a cargo ship owned by Sea Tankers Pty. Ltd. of Singapore bound for Brisbane from New Zealand. Captain Seluenu and his crew of 24 plus 2 pet monkeys all survived the ordeal.
When the Cherry Venture was built in Gothenburg, Sweden, in 1945, she was named Scania, however her name was subsequently changed to Slott and the Timor Venture before being known as the Cherry Venture. She measured 91.4 metres and weighed 1,625 tonnes.
Immediately after the Cherry Venture ran aground, a Gladstone based tug, the William R. Golding tried to free her – unfortunately all attempts failed. Peter Vaggelas, the then owner of South Mole Island bought her in October 1973, with the view to refloat her and refit her as a luxury cruise ship featuring an on-board casino to operate around the Barrier Reef islands. Even though there were nine major salvage operations over the next several years, the Cherry Venture remained in her sandy grave.
In 2007 the wreck was demolished and removed due to increasing dangers posed by her deterioration, including exposed asbestos in the engine room. Such a shame.
A quick look at the beach and off we went to Noosa Heads.
A stop for petrol and I just had to get out to take a picture of this humungous cactus – Kouboo/Giant Club (Cereus repandus) was planted by the Jurss family. It was a metre long cutting from their holiday residence at Maarom. Big enough to house stag horn fern and swagnum moss, this beast of a plant dwarves the parked car.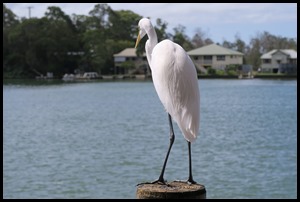 Noosa Head Marina was the next stop for lunch. While the others were studying the menu, I nipped over to this handsome chap for some pictures.
Quite the poser.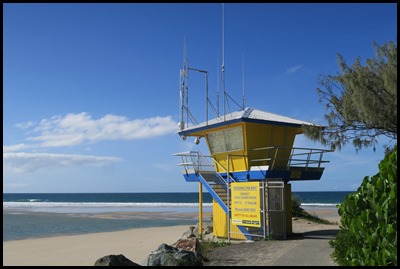 After our delicious lunch Jim and Pam took us to the infamous Noosa Heads Bar. From a distance we could never have believed – other than being incredibly shallow, that this entrance would cause so much trouble. Well worth a look at the videos posted on You Tube.
The Bar.
We watched a little boat try to go over, promptly turn round and then have another go – this time successful.
Over to our far right is the beach 'the beautiful people' use, surf school in progress.
A huge and lovely area.
Kite surfers have miles to play.
The view back to where we had lunch. Dodgy little eddies near the bank.
To the left corner between the two yellow markers are warnings about a very deep pool with nasty currents.
Jim drove us to the other end to enjoy a walk along the beach and the boardwalk alongside. Time for a coffee which came with a square of heavenly fudge. Next stop Tewantin Forest and Lookout. Not before I had a couple of hot totties to study............
ALL IN ALL A GREAT DAY OUT
GOOD TO SEE THE IMPOSSIBLE BAR ENTRANCE
---