Beez Through S-F

Beez Neez
Skipper and First Mate Millard (Big Bear and Pepe)
Tue 28 Jul 2015 22:57
Beez Through the Pass and On by Scott-Free
Beez lines up to skirt the 'big rock'.
Very slowly through the shallow bit.
Heading into the Pass.
This aerial view of the Pass was taken from A Mariners Guide to Fiji – it doesn't acknowledge who took it, but thank you to whoever did. It does show a simple route in or out, just fifty five metres wide...............It is simple, but your knee-caps do itch on their inside surface – just a bit.
Our view to the left.
Our view to our right.
Out safely and we're off.
Scott-Free lined up........
.........and they're off.
Two hundred and eighty miles to go.
Love these pictures of an 'Underwater Beez'.
Smashing to see Beez doing what she loves best.
Just shy of three hundred miles later a thirty nine foot four and a forty three footer, slightly different courses with different jibes, over two different nights that gave us very different conditions and we anchor within minutes of each other. We even caught different fish as Scott-Free caught a lovely skipjack tuna and we caught mahi-mahi. Scott-Free, with the yellow arrow as we turn into the wide Navula Passage.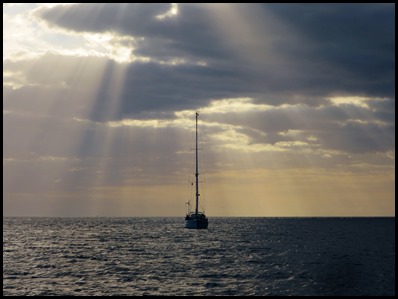 Scott-Free such a short distance away as we pull into Momi Bay. Just before we anchored Bear had just said how much he fancied fish, mash and peas for supper. No sooner than we had settled we were invited over for – you guessed it – plus crispy sauté, what a treat and Steve came to collect us to save Bear having to launch Baby Beez. Does it get any better than that ???
ALL IN ALL CRACKING – THANK YOU xx xx
INCREDIBLE TO SEE AND DO
---