Meet Mikey

Beez Neez now Chy Whella
Big Bear and Pepe Millard
Mon 8 May 2017 22:57
Mikey - (Mavic Pro Drone)
We left the New Forest this morning (me with everything clenched against the dreadful bug I picked up there) and headed to Yeovil. There I bought Bear his birthday present, now named Mikey after a forward thinking bank manager we had some twenty years ago. Mad. This may be the wildest purchase I have ever made but the delight on Bear's face was so very worth it.
History: I had my computer serviced near Opua, New Zealand and no sooner than my laptop was back in its bag, than the chap whisked Bear to his landing box on the back deck. There we watched as one of several drones was put through its paces. Bear was awed by the flight and since that day has researched all there is to know. I keep telling myself it will be worth the footage Mikey will achieve in the Serengeti........ watch this space and my eyebrows as batteries charged things began to light up. Tonight, we are tucked up in a Torquay B+B ready to pick up a campervan on the morrow for two weeks in Cornwall.
Bear settled his IPhone in place on the controller and things whirred but I was soundly assured that nothing would happen until further programming and GPS positioning had been sorted. Plenty of stroking and so much pointing out and information that my frequent trips to the loo became my time to stop my eyes glazing over. I have visions of those stubby thumbs in action and can reassure you, our dear reader that Mikey has a homing button. Insurance all done, rules and regs studied, more stroking and I felt the need for a tiny nightcap. For such a terrific chap – how could a girl refuse ???, I'll leave you with the happiest grin.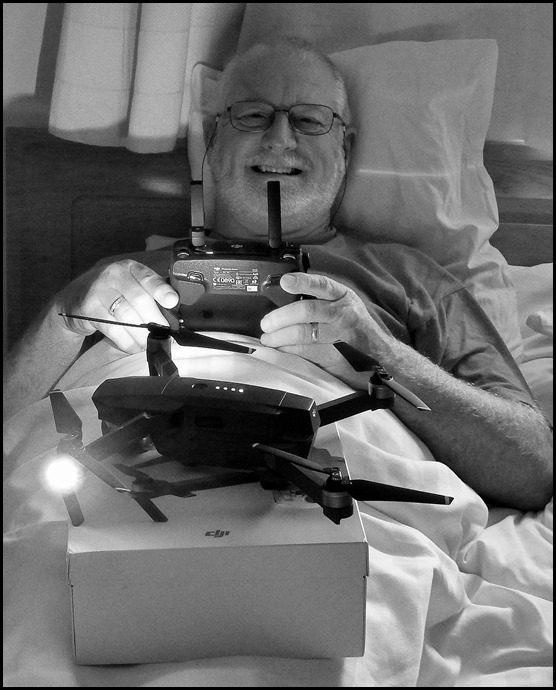 ALL IN ALL ONE VERY EXCITED BEAR
REALLY EXCITING, CANNOT WAIT TO GET HIM FLYING
---