Elizabeth City

Beez Neez
Skipper and First Mate Millard (Big Bear and Pepe)
Fri 25 Nov 2011 23:38
Elizabeth City
The building is one of the many pump houses, the visitor centre nearby - sadly closed for Thanksgiving - so I missed my rose but I got to look at the bushes
The monument to 'The Rose Buddies"
The Legend of the Rose Buddies: On a Sunday afternoon in 1983, Fred L. Fearing and Joseph P. Kramer II, decided to host a gathering for the mariners. Joe clipped his own roses for the First Mates, while Fred supplied the refreshments. The first reception welcomed seventeen boats and their crews. The Rose Buddies tradition in the Harbor of Hospitality was born and spread by word of mouth up and down the Intracoastal Waterway and beyond. When Joe died in 1987, his rose bushes were transplanted to Mariners' Wharf Park. They continue to provide blooms for visitors and color for the "locals" who stop by the docks. Even as Fred reached his 90's, he continued the work of the Rose Buddies. He was assisted by businesspersons and local organizations that donated goods and services and were key to preserving the efforts to welcome their nautical visitors. Fred Fearing died in 2007, a gregarious man who loved this community of his birth, and never tired of sharing his extraordinary knowledge of local history and legends with interested residents and seafarers. Commemorating the 25th Anniversary of the Rose Buddies. Dedicated this 18th day of September 2008.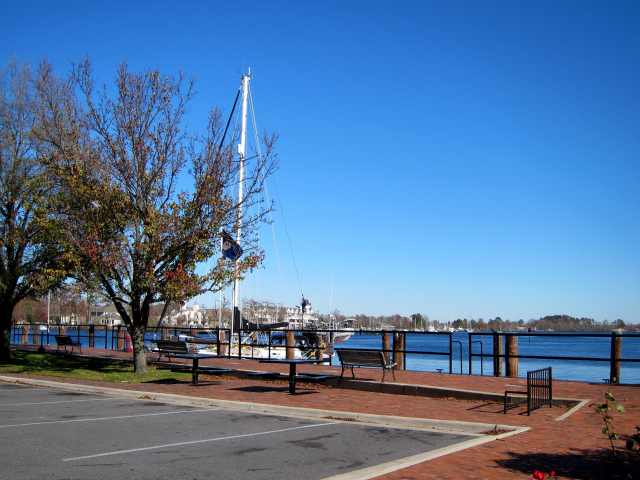 Beez Neez parked against hospitality dock
We woke and fancied a slow start, outside the sun was so glorious it would have been rude not to go and explore the town. We knew from the books that Elizabeth City is the most famous stopping place on the ICW as the "Home of Hospitality" and the tradition is for each lady to be presented with a rose bud as she steps off her boat. Sadly, as today is 'Thanksgiving Boxing Day" if you like - a Bank Holiday, I missed my chance but got to stand beside all the bushes. Now we have read the monument it makes perfect sense why the Bridge Master was so keen for me to ring him as soon as we got in and tied up - he was the welcome party as no-one else was here to do it. He offered us emergency supplies from his cupboard and the use of his truck in case we needed to go to the supermarket AND we are on a free forty-eight hour dock. Well that strikes us as welcoming and hospitable in spades, the rose bud would have just been the icing on the cake.
The quaint town where every shop was very welcoming
As early as the mid 18th century, at the narrows of the Pasquotank River, the area that would become Elizabeth City, served as a trading site. Soon inspection stations and ferries were established and with the addition of minor roads, a schoolhouse and soon a church, a small community was established at these narrows. In 1793, construction of the Dismal Swamp Canal, which would drive Elizabeth City's commerce, began, the North Carolina Assembly incorporated the town of Redding. In 1794, the town was renamed Elizabethtown, but in 1801, due to confusion with another town of the same name, the city was renamed Elizabeth City. The name "Elizabeth" has been variously attributed to honour either Queen Elizabeth I of England, who 200 years earlier spearheaded the colonisation of the Carolina and Virginia coasts, or Elizabeth "Betsy" Tooley, a local tavern proprietress who donated much of the land for the new town. The improvements made to the Dismal Swamp Canal made Elizabeth City a financial center of trade and commercially successful for the early 19th century. In 1826, the federal government purchased six hundred stocks in the canal and, in 1829, additional funds for improvements were raised by the Norfolk lottery. With these funds, the Dismal Swamp Canal was widened and deepened, allowing for larger boats to ship their goods. Further bolstering Elizabeth City's financial success was the movement in 1827 of the customs house from Camden County to Elizabeth City, leading much of northeast Albemarle's trade to be directed directly through Elizabeth City. 1829 to 1832, Elizabeth City's tolls tripled. During the American Civil War the Confederate States had a small fleet stationed at Elizabeth City. After the Battle of Roanoke Island the Union forces sent a fleet to take Elizabeth City. There was a small skirmish that followed which ended in a Union victory. Elizabeth City was under Union control for the remainder of the war though Confederate irregulars engaged in Guerrilla warfare with Union forces in the area for the remainder of the war.
Meanwhile overland travel slowly improved, furnishing greater trade between neighboring counties, and a ferry continued to be used for transport between Elizabeth City and Camden county. However, the completion of competing canals and railroads around Elizabeth City diverted some of its financial success to neighboring cities. The Portsmouth and Weldon Railroad, completed in the 1830's allowed for goods to be transported from the Roanoke River to be directly transported to Weldon, and the Albemarle-Chesapeake Canal, completed in 1859, created a deeper channel for merchants shipping goods from the Eastern Albemarle Sound to Norfolk. It would not be until 1881 that the Elizabeth City and Norfolk Railroad, later renamed the Norfolk Southern Railway, would once again jumpstart the city's industry. Industry grew further during World War II, particularly in shipbuilding, tapering off over the following decades as industry withdrew to form the service, government and agriculture-dominant economic sectors present today. A recent revival in tourism and civic revitalisation centred over downtown and the city's varied historic districts has further shaped the city's current PR image.
Across the main road from the Beez we found a rarity - a material and sewing machine shop, had to have a peek, flying lessons came to mind but apparently idiot proof and $3000, WOW
We had a late lunch and Bear produced his birthday gadget, his Hoppy. He let me check my emails as we were in an internet café. Only forty three messages, mostly to tell me I had been "hijacked" "sending adverts" for Iphone via some poor spelling Chinese site. Sorry to everyone who got them or gets them, I hope these things are self limiting and stop soon. One of my chores in Deltaville was to get my computer serviced and at $150 I'm non too pleased as the techy has managed to block me from sending blogs (now months behind) AND he was supposed to protect me from this sort of nonsense by revamping my virus software. Just as well I'm too far to reach his throat with my now itchy thumbs. All I can say is the messages began after we left Deltaville and before we got here, apparently harmless but nonetheless very annoying. Sorry everybody.
We stopped at a perfect little mall but I was dazzled by a department store - a tiny one - but oh my, Al Capone would have loved it. Purple and pink leather shoe, gangster suits, loud shirts and ties, is this for real. Yes
Bear went to get a loaf of bread and was overwhelmed at the many different types. Next the cookie and cake shop
We could have trottted on a historical building walking tour, all laid out in a pamphlet but chose instead to bimble and find what we could find. We saw a couple of historic signs and then a dedication to Moth boats - a new one on us, it said: Measuring just eleven feet long with a seventy square foot sail, the Moth is a one man sailboat that is a challenge and a thrill to skipper. In 1929, Captain Joel Van Sant designed the first Moth boat here in Elizabeth City, and it was at the Elizabeth City Shipyard that the first Moth boat was built. At one time, as many as 1500 Moth boats sailed the world's waters. Elizabeth City was the site of the annual National Regatta, the Governor's Cup and occasionally the World Championship races, and locals brought home those championships quite often. It is those who contributed so much to the popularity of Moth boats and to those who carry on the tradition today that this park is dedicated. One for you then MOTH.
A couple more plaques and as the sun was going in, time for us to do the same as it was getting nippy. A lovely bimble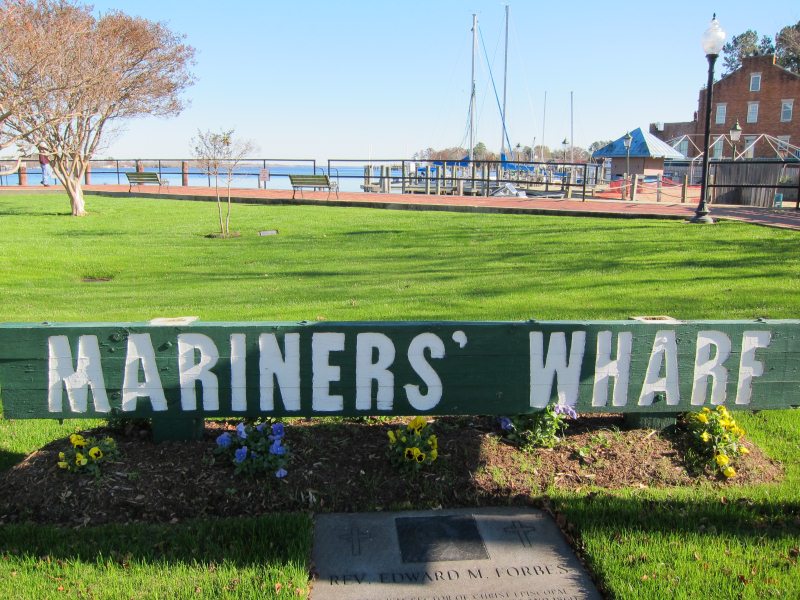 ALL IN ALL A VERY FRIENDLY PLACE TO STOP FOR A COUPLE OF DAYS
.
---