Halloween

Beez Neez
Skipper and First Mate Millard (Big Bear and Pepe)
Sat 31 Oct 2009 23:30
Halloween
Halloween saw a group of youngsters visit Beez Neez.
I took pictures of all the group, with a nice face then a scary face. Bear had to judge. The winner for the girls was Bailey aged 8 from boat Silver Blue and for the boys Martin aged 9 from Wendreda. Well Done.
Alva - aged 8 from Cheetah, Michelle aged 13 from Wendreda and Brittaney aged 11 from Silver Blue
James aged 11 also from Wendreda, William aged 9 and Katie aged 11 from Alouette
Zoya aged 8 - a local girl. Katie aged 6 from Stilawa and Peter aged 8 from Wendreda
We had some sparklers and mums were terrorized.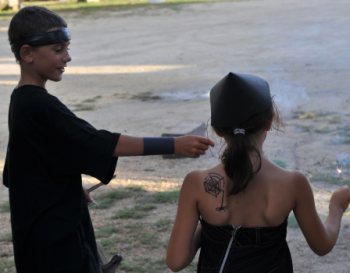 Later on Jan and his sister Lucy from a French boat called Fitou came over. More sparklers. Lucy had a great spider web on her shoulder.
ALL IN ALL A HAPPY HALLOWEEN
---