Mall Date Night

Beez Neez
Skipper and First Mate Millard (Big Bear and Pepe)
Wed 2 Nov 2016 23:57
Our First Date Night in Malaysia
We leave Beez Neez (centre of the picture) and head to the Mall to her left.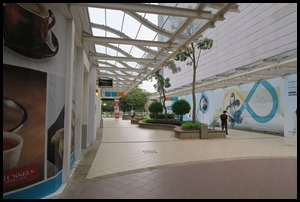 We marvel at this great, mostly unused space and ride an escalator, our first in ages. We head up to the first floor and find a Toys R Us, a chemist and a few eateries and a hotel entrance.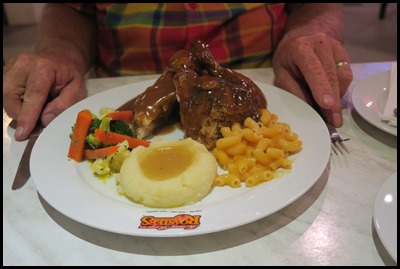 We find a roast chicken house called Kenny Rogers – the music suddenly made us twig that the very same man as "You picked a fine time to leave me, Lucille" had indeed set up these eateries. Not so successful in the USA but a real hit with 155 in Asia. For a couple of shillings more we could up our quarter to a half and we could have free refills if we had the shops own juice. Bear chose chicken with mash, macaroni, mixed veg and gravy. I had chicken, mash, baked beans and gravy but for my other sides went with fresh fruit. Ten we could chose from a list of muffins. Well, we dated like king and queen and brought enough chicken home for Bears lunch the next day, all for less than ten pounds. I know how to treat a lady and show her a fantastic restaurant evening out with all the trimmings. Take me home, you Numpty.
The boardwalk was now prettily lit.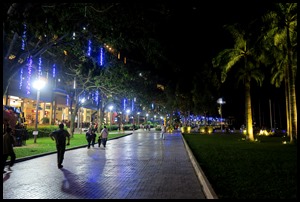 We enjoy the walk home.
Once home we look up how the area will look once completed.
Puteri (said Pute-ree, meaning Princess in Malay).
A city designed from scratch, due for completion within the next five years. Legoland has become one of the most popular days out in Malaysia.
ALL IN ALL BLESSINGS TO KENNY
A SURPRISE FIND AND FABULOUS FOOD
---