Sleeping Indian Work Day 1

Beez Neez
Skipper and First Mate Millard (Big Bear and Pepe)
Mon 25 May 2020 23:57
Work Begins at Sleeping Indian
The boys arrived promptly at eight thirty, led by Lord Ron (Chief), Lloyd (Bossman), Baldwin (aka Barry White for his deep, silky, booming voice – but I cannot sing – does that matter ???), and Benji (cutie, because of his shy smile). Within minutes jobs were assigned and they got to it with gusto. Chris (Mr, Sprayer) arrived to collect some of the furniture and kitchen cabinets to take them on their 'olidays and returned for the second half – so likeable from the offset.
Lashley disappeared and was soon seen paddling the work pontoon in, watched by Lloyd. "You can call me Captain."
Captain was soon carefully removing the dock lights.
Bear of course, was on hand to add support as Lloyd passed more tools.
Plenty of rotten wood was soon being piled up outside. The downpipe was seen to have a split below 'ground level' and the fence between us and next door was in poor shape once the uprights had been removed. And there we were on arrival at the villa just doing some serious sanding and applying a bit of varnish..........Mmmmm. It was also clear that the deck had been supported on logs which stood on the sea wall itself – totally against the rules......
Bear set to work on the now satisfying pile to harvest the better wood for his outdoor shower and my trellis support.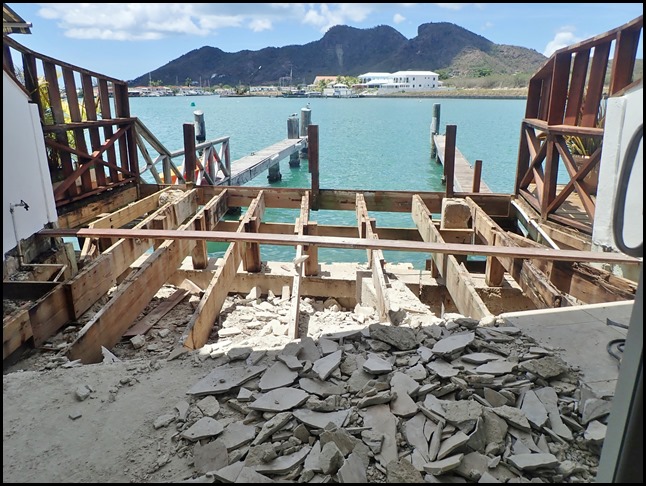 A couple of hours in and all the deck was gone and out came 'big boy' tools.
After lunch Baldwin got destructive and Benji shoveled and cleared.
By three o'clock our view and patio had somewhat changed in appearance – incredible what beefy guys with the strength of ox's can achieve in such a short time. They left with cheery smiles and we went for a swim.
ALL IN ALL SUCH A WONDERFUL CREW OF CHAPS
AN AMAZINGLY IMPRESSIVE START
---