To Lizard Island

Beez Neez
Skipper and First Mate Millard (Big Bear and Pepe)
Tue 5 Jul 2016 22:27
To Lizard Island
We left our slot at 09:30 and were soon out of Marlin Marina, a long two weeks of jobs, chores, shopping and rally meetings behind us.
Adam on Serica waved as we passed the anchorage, he'll be on his way on the morrow.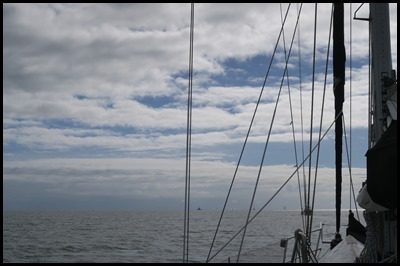 We had a good test of 'things staying in their place' as two fast ferries overtook us in the channel causing quite big waves. Then all was peaceful and calm. Ahead Afar VI who have to nip in to Port Douglas for a bit of rigging work. It will be fun seeing rally boats on the AIS and chums of course.
Looking back for our final look at Cairns.
A fishing girl on her way in after a night out.
A working girl towing her charge.
The chap in the tow waved vigorously from his position – feet up reading his newspaper.
The afternoon sped by, lots of boats out and about to see. So good to be back doing what we love – best described to a non-sailor as bike riding. You really want to enjoy the afternoon taking in the beautiful scenery as you pedal along. Not so much fun when you have to stop to adjust the seat, a puncture repair or worse, take your trusty steed in to a workshop for serious maintenance or repair.
Doesn't take some people long to get back into the rhythm of life at sea. I enjoyed a chum, too far away to see her name.
Bear tucked into chicken salad and a requested dollop of mash as I took in the sunset.
My 18:00 to 22:00 was very quiet, just us kids out here with Kereru a couple of miles behind.
Overnight Bear had a couple of chums, all I had was a warship coming the other way. I went to bed at six with the day just waking.
Third Island and a chum as first mate slept soundly.
I got up to see Seabird Island, not far to go now.

Lizard Island a few miles away.
Bamboozle in the anchorage, we could see a spot well tucked in beside the reef on the left of the other boats. A couple of lemon sharks came to say 'hello', they do this to all new boats in – just in case a snack is available.
Somewhere just off the beach are the remains of Mrs Watson's house. Away to the right a 'get away from it all' exclusive forty villa resort.
To our right Hybresail (who welcomed us in on the radio), they invited us to the beach at four for smoked fish and a get together.
Eleven thirty, anchor down, 143 miles under our belt – just over a quarter of the way to check-out on Thursday Island, for now enjoy the blue water, then a walk on the beach and a snorkel before sundowners.
ALL IN ALL THRILLED TO BE AT SEA ONCE MORE
WONDERFUL TO BE ON THE MOVE
---