Maunsel House

Beez Neez
Skipper and First Mate Millard (Big Bear and Pepe)
Sat 22 May 2010 22:33
Maunsel House
Maunsel House is a magnificent 13th Century Manor set in one hundred acres of stunning parkland at the heart of sprawling two thousand acre estate, compromising of farms, lakes, woodlands, walnut groves, orchards, Somerset Wetlands, cottages and ancient barn. In AD 1086 (Doomsday), the manor was called 'Maunsel' being derived from the French meaning 'Sleeve of Land' and was granted to Count Eustace of Boulogne, kinsman of William the Conqueror. At the time of Henry II, William De Erleigh granted Maunsel to Philip Arbalistarius as a dowry to his daughter Mabel on payment of two pigs every Whitsuntide at his court of Durston. His son Philip married the daughter of Sir Hugh d'Auderville and assumed the Surname of Maunsel.


Philip de Maunsel became progenitor of the family with the surname 'Maunsell' and 'Mansel'. The estate passed to the Bacon family of Norfolk and then to the Slade family. The Slade family between 1772 and 1868 built two further wings of Maunsel, to the North and West. In more recent times, Sir Ben has undertaken an extensive restoration program for both the house and the surrounding estate. This has included the buying back of various parts of land sold off by ancestors and returning the house to a befitting state.

General Sir John Slade (his father also called John) bought Maunsel House in 1772. He was awarded 1st Baronet for services during the war. He also famously danced with Marie Antoinette who gave him a snuff box when he was a young man.
Sir Thomas Slade who was a Naval architect, designed Nelsons Ship 'Victory'. A model of the ship itself can be found on the upstairs landing of Maunsel House. Sir Alfred Slade 3rd Baronet was born 28th May 1834, (son of Sir Frederick Slade, 2nd Baronet). Sir Alfred fought in the Crimean War and later became the Receiver General of the Inland Revenue.
Madeleine Slade was the daughter of British admiral Sir Edmond Warre Slade and went to India in 1925. Gandhi renamed her with the Indian name Mirabehn in recognition of her devotion to him and his cause. She accompanied Gandhi to the roundtable talks with the British and later was imprisoned alongside him in Aga Khan Palace Jail.After Gandhi's death she continued running an ashram, or spiritual community, until 1956.
Sir Cuthbert Slade 4th Bt, son of Sir Alfred married and had three children; Barbara Constance Slade, Captain Sir Alfred Fothringham Slade 5th Bt, and Sir Michael Nial Slade 6th Bt. Sir Benjamin Julian Alfred Slade 7th Bt is the son of Sir Michael Nial Slade. He was born 22nd May 1946 and educated at Millfield School, Somerset. He worked in various different businesses in Australia before returning to London in 1971 to work as a stockbroker in the City of London.
Sir Benjamin founded Shirlstar Container Transport Limited in 1973 with £200 and built the business up into a leading container transport company. Shirlstar Container Transport Ltd later became part of Shirlstar (Holdings) Ltd and the container fleet was sold in the late 1980s. Since then, Sir Benjamin's business interests have diversified into high technology, food retail, property investment, agricultural land and insurance. The very quaint thing was when 'Sir Ben' and Kirsty went round last thing to ask the non-residents to make their way as it was time to 'lock up' - this made it all so real that we were staying in their home.
Our room was at the top of the house called the Park Room, the sloping ceiling made it hard to stand at the sides of the high bed. The decor was very in keeping with the period of the house
The Chaucer Room
Geoffrey Chaucer, The Warden of Petherton Park lived at Maunsel House for ten years in the 1390's while he wrote The Canterbury Tales. His tales were based on local characters such as The Wife of Bath who was based on a local lady who married five times in St Michael's Church (the estate church). Chaucer's brother, John O'Gaunt was another famous visitor to Maunsel.
King Alfred stayed in this splendid room, named after him, whilst his army camped nearby in North Newton before the Battle of Wedmore
Lady Slade Room
Queen Matilda came to stay here in the 1140's. She was named successor to Henry I and fought with her cousin King Stephen to claim the throne. King John stayed many times as he had favourite hunting parks in North Petherton.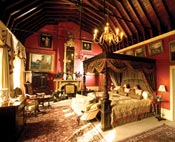 ALL IN ALL A STUNNING VENUE TO HOLD A RECEPTION
---