Cascais Marina

Beez Neez
Skipper and First Mate Millard (Big Bear and Pepe)
Mon 1 Sep 2008 23:45
Journey and Cascais Marina
We left Nazare at seven, motor sailing the 74 miles to Cascais.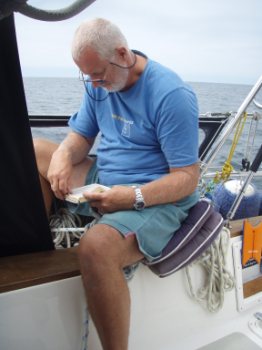 Time for a few jobs en route, but by and large its a tough life when a skipper is on duty. I came on watch at two just as the wind changed, nearing Cascais, up to 28 knots, too flaky for autopilot so I had a lot of fun helming. Boat speed average 7.8 reaching 8.2 knots, this was due to the local weather system. The cloud was a thick blanket over the surrounding mountains. You could clearly see the left edge of the cloud forming and the right dissipating in the heat.
The entrance to this busy marina was very easy, huge waiting pontoon whilst skipper went and did the formalities, with Maritime Police, Municipal Police and the Marina, allotted L23. As I pulled in, I saw. Joe and Joell e from AlgeiIhelp us tief up. Joe ga ve us a touir map of Litsbon and bade us fareswell as they were leaving e arly next morniang. In the third photo you can shee Beuez directgly in the centre of the shot. Three boats down was Nimue, who moved off to anchor next morning. After a good night in near total silence we woke ready to explore, went shopping, Michael picked us up in his tender at 6 for a smashing evening in the bay and a wonderful roast chicken dinner.
Anne taking a photo of me in my new hat. As you will all know tenders at night have to carry a torch when moving, Michael certainly has a big one !!!!!!!! Next day we all went to Sintra ( own blog ). Nimue left the morning after, they were going to Sines, then Portimao and on to Gibraltar. We wish Anne and Michael God's Speed and Safe Winds.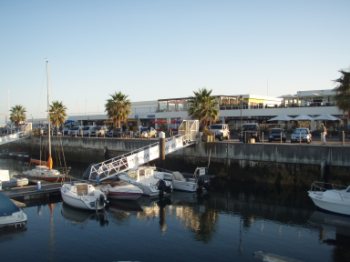 The marina seen from the town side, was opened in August 1999, has 638 berths and can take about 20 Mega-yachts. The first picture shows where the local smaller boats live. 2. Beyond the cars parked is a wide access road and many shops and restaurants. 3. The side we see from Beez Neez. The cafe in the centre is where we go for our internet access, the marina one has a fault and therefore a pain to keep a connection.
Beez in her parking slot. The lighthouse was just away to our right and frightened the life out of us, when the fog siren sounded at 4.30 one morning. Two seconds on, four off, for the next eight hours. (
at least it was a normal fog horn, not the wailing siren we had in Povoa )
. With the washboards out the condensed air was falling down the stairs like a fog machine at a disco, doors shut we stayed snug playing games until it cleared late afternoon. The boat next to us was called
Spirit of the Gift
and is being tenderly cared for/maintained by an elderly English chap who meticulously pegged out a slim sheet to cover his highly varnished gunwale edging strip. During the week we have seen him up the mast, hammering, drilling and washing his smalls in a very ancient enamel bucket. Never seen without a "snout" hanging from his lower lip, only removed so he can cough like a chimney. Opposite us was a boat called
Dad's Mistress
of Sark. Just in our end of the marina we have seen boats from Switzerland, South Africa ( a vast catamaran called
Spirit of
Africa
), Finland, Ireland, USA, Canada, England, France, Spain, Germany, Australia, The Netherlands and of course Portugal.
I know I have mentioned kissing my bottom before but I must say again, in the absolute silence of the night that is all I could hear. ( other than when I help with the snoring I suppose ) They DO wake me up. This particular chap was fourteen inches long, fancied a certain area of hull and had a mouth the size of a 50p. Boy could he kiss. Up and down like watching an old typewriter. I got up one night and counted 28 of his friends, man I should have the cleanest bottom in Christendom...............................................
We have loved or stay in Cascais but sadly time to go on to Sines on Tuesday 2nd September - HAPPY 36th ANNIVERSARY PETER and RITA
---