Ripley's

Beez Neez now Chy Whella
Big Bear and Pepe Millard
Tue 14 Feb 2012 23:07
Ripley's Believe It Or Not
We have never been to any of the various Ripley's on our travels, here in St Augustine is the original, so off we went on todays touristy thing. The well-known Ripley's Believe It or Not! Museums are a popular part of American vacation culture. Noted for their bizarre collections of unusual and sometimes macabre artifacts, they can be found in locations such as Key West, Panama City Beach, Branson, Myrtle Beach, Gatlinburg, San Francisco and New York. The museum that started it all, however, is in the historic Warden Castle. Built in 1887 as the winter home of William G. Warden, a business partner of John D. Rockefeller and Henry Flagler, the castle is a noteworthy landmark from the post-Civil War era in St. Augustine. The unique Moorish Revival architecture of the castle and its sheer size made it one of the most striking private residences in the city. A focus for winter activity, it was owned by the Warden family through the 1930's.
In 1941 the castle was remodeled as a hotel and hosted many prominent visitors. The famed novelist Marjorie Kinnan Rawlings (author of The Yearling, Cross Creek, and South Moon Under) and her husband owned it and had an apartment on the top floor. In April 1944, a fire swept through the third and fourth floors of the Castle Warden Inn, as it was called during the World War II era. Damage was extensive and two women died. But many observers now believe that Ruth Hopkins Pickering and Betty Neville Richeson were murdered and the fire set to cover up the evil deed. Neither of the women were burned, but both were believed at the time to have died of suffocation from the smoke fumes. Ironically, both had locked themselves in their bathrooms and wrapped themselves in wet towels, hiding in their baths. It is highly unlikely they knew each other. In fact, Betty, a woman in her 20′s, had only checked into the hotel ninety minutes before her death. Ruth, on the other hand, was staying in the 4th floor penthouse apartment for a lengthy period at the behest of her good friend Marjorie. Many believe Ruth was "hiding" from an abusive spouse and Marjorie knew Ruth would be safe and comfortable there, just a few blocks away from Ruth's residence on Magnolia Avenue. To this day, many people claim to see the ghosts of Betty and Ruth roaming in the hallways. (The exhibit is quite effective, one view of the room shows the woman, move to the left and she disappears).
The hotel was also a favorite for Robert Leroy Ripley, the newspaper cartoonist, writer and researcher made famous by his Believe It or Not! cartoons that ran in newspapers around the world. Becoming convinced that the castle would be an ideal home for a museum displaying his discoveries and collection of artifacts, Ripley tried unsuccessfully to purchase the structure. Following his death in 1949, however, his heirs finally managed to secure the estate and in December of 1950 the nation's first Ripley's Believe It or Not! Museum opened in St. Augustine. Today the museum is filled with thousands of oddities, ranging from an Egyptian mummified cat to the world's largest moving erector set. The unique architecture of the historic castle, however, has been preserved and it remains an imposing sight. In addition to its collection of unusual artifacts and stunning architecture, Warden Castle is also a focal point for ghost hunters.
Robert Leroy Ripley Timeline:
1890 Born in Santa Rosa, California
1901 Receives his formal education
1906 Becomes a semi-pro in baseball and sells first cartoon to Life
1908 Quits baseball briefly to support mother
1909 Moves from the San Francisco Bulletin to the San Francisco Chronicle
1912 Creates his last drawing for the San Francisco Chronicle and moves to New York that winter
1913 On the 2nd of January, writes his first comic for the New York Globe, tries out for the NY Giants, but an injury ends his baseball hopes
1914 Takes his first trip to Europe
1918 On the 19th of December, publishes Champs and Chumps in the New York Globe
1919 Marries Beatrice Roberts
1920 Takes his first solo trip to Europe to cover the Olympics, held in Antwerp, Belgium
1922 On the 3rd of December, takes first trip around the world; writes in installments in his travel journal
1923 On the 7th of April, returns to the U.S. and hires researcher and linguist Norbert Pearlroth; the Globe ceases publication and the series moves to the New York Evening News
1925 Writes travel journal, handball guide
1926 Becomes New York handball champion and writes book on boxing score; divorces Beatrice Roberts after being separated for some time.
1929 On the 9th of July, William Randolph Hearst's King Features Syndicate features Believe It or Not! in seventeen papers worldwide
1930 Begins an 18 year run on radio, Hearst funds Ripley's world travels, where Ripley records live radio shows from underwater, the sky, caves, snake pits and foreign countries
1931 Releases movie shorts for Vitaphone, second book of Believe it or Not!
1932 Takes trip to the Far East
1933 First Odditorium opens in Chicago
1934 Does the first radio show broadcast simultaneously around the world and purchases 28-room home in Mamaroneck, New York
1935 Odditorium opens in San Diego
1936 Odditorium opens in Dallas; Ripley voted most popular man in America
1937 Odditorium opens in Cleveland; Peanuts creator Charles Schulz's first published drawing appears in Believe it or Not!
1939 Odditoriums open in San Francisco and New York City; Ripley receives honorary degree from Dartmouth College
1940 Purchases a 13-room Manhattan apartment; receives two more honorary degrees; number of foreign countries visited through funding by Hearst reaches 201
1945 Stops foreign travel to do World War II charity work
1946 Purchases a Chinese junk, the Mon Lei
1947 Purchases third home, at High Mount, Florida
1948 Radio program ends; the 30th anniversary of Believe it or Not! is celebrated at a New York costume party
1949 Ripley dies of a heart attack on the 27th of May, shortly after thirteenth telecast of first television show and is buried in Santa Rosa; auction of his estate is held; estate is purchased by John Arthur.
An Uncommon Man: Ripley was commonly known as being extremely eccentric; his friends called him "his own greatest Believe It or Not!". Although he was noted as being extremely shy, he dressed in flamboyant colour combinations, often wearing bat-wing ties, pith helmets, coolie shirts and Eskimo parkas. He kept a 28-foot boa constrictor as a pet and let squirrels and chipmunks run around him while he drew. He thought both smoking and playing cards were evil, but was a heavy social drinker and a notorious ladies man, at times housing up to five or more live-in girlfriends at a time. He loved sailing and purchased a Chinese Junk he called "Mon Lei", yet he couldn't swim a stroke. It has also been rumoured that he changed his own birthday from Boxing Day to Christmas Day in order to accentuate his eccentricity. Given his unbelievable life, perhaps it is fitting that even Robert Ripley's death left the world wondering about the "Believe It of Not!" circumstances. At age 58, Ripley died after taping the 13th episode of his television series, an episode that dealt with death and death rituals. He passed out during the show, was taken to the hospital and, soon after, was pronounced dead of a heart attack.
Ripley's ideas and legacy live on in Ripley Entertainment, a company bearing his name, which, since 1985 has been owned by the Jim Patterson Group, Canada's 3rd largest privately held company. Ripley Entertainment airs national television shows, features publications of oddities, and has holdings in a variety of public attractions, including Ripley's Aquarium, Ripley's Believe it or Not! Museums, Ripley's Haunted Adventure, Ripley's Mini-Golf and Arcade, Ripley's Movie Theater, Ripley's Sightseeing Trains, Great Wolf Lodge overlooking Niagara Falls, Guinness World Records Attractions and Louis Tussaud's wax Museums.
The Lord's Prayer engraved on a pin head. In the late 1800's, a prisoner named A. Schiller was found dead in his cell in Sing Sing Prison. The guards discovered seven straight pins on his body. Upon examination, they saw that the dead man had engraved the Lord's Prayer on the head of each. Of the seven, however, only one was a perfect copy, the one we are looking at through a magnifying glass. Schiller had been serving a life sentence for forgery and had put his skills to good use. Although it had cost him twenty five years of labour and his eyesight. The pin was first exhibited at the Chicago World's Fair in 1893 but was stolen from its display case and not seen again for over forty years, until a minature collector Jules Charbneau discovered it in a San Fransisco antique shop in the late 1930's.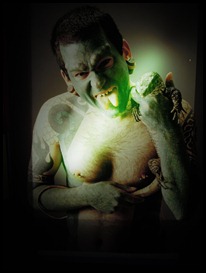 We bimbled around the three stories of 'a mixed bag' of exhibits. On each level there were videos playing featuring everything from sword swallowers, a man who cam skip on his bottom, men of beds of nails and so much more. There were death and life masks, a pirate exhibit and lots more.
Bear by the world's biggest erector set. I much prefer to say Mecanno set.
In the corner is the Million Dollar Man. Jim Shore a local created this sculpture from over a million dollars of macerated money. The Really Hungry Moose. In Fort Yukon, Alaska, during the winter of 1994, a bull moose crashed its head through a cabin window in search of food. Trapped by its antlers, the moose couldn't get its head back out and eventually froze to death – still standing.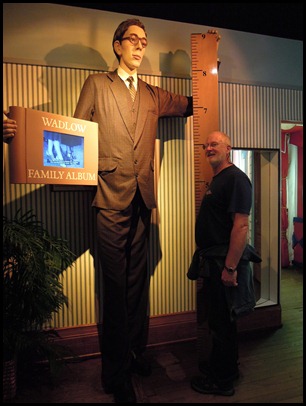 Robert Pershing Wadlow was born in Alton, Illinois on the 22nd of February 1918, was the tallest person in history for whom there is irrefutable evidence. Wadlow reached 8 feet 11.1 in height and weighed 439 pounds at his death at age 22. His great size and his continued growth in adulthood was due to hypertrophy of his pituitary gland, which resulted in an abnormally high level of human growth hormone. Robert was 8 pounds 6 ounces at birth and normal 'length'. At the age of 4 he was 5 feet 4 inches; at 8 he was 6 feet 2 inches; at 18 he was 8 feet 4 inches; at 21 and 8 feet 9.5 inches he became the world's tallest man. At school he used a desk made for his size, in 1936, after graduating from Alton High School, he enrolled in Shurtleff College with the intention of studying law. He showed no indication of an end to his growth even at the time of his death. In later years Wadlow's size began to take its toll; he required leg braces to walk, and had little feeling in his legs and feet. Despite these difficulties, Wadlow never used a wheelchair. He continued participating in tours and public appearances, though only in his normal street clothes. He wore size 37 AA shoes. On the 4th of July 1940, during a professional appearance, a faulty brace irritated his ankle, causing a blister and subsequent infection. Doctors treated him with a blood transfusion and emergency surgery, but his condition worsened and on the 15th of July 15 1940, he died in his sleep at age 22. An estimated 40,000 people attended Wadlow's funeral on July 19. He was buried in a 10-foot-long, half-ton coffin that required twelve pallbearers to carry and was interred in a vault of solid concrete. It was believed that Wadlow's family members were concerned for the sanctity of his body after his death, and wanted to ensure it would not be disturbed or stolen.
Robert Earl Hughes was born weighing eleven and a quarter pounds on the 4th of June 1926. At the age of three months, suffering from whooping cough, he "burst a gland in the back of his neck" or "attributed to a malfunctioning pituitary gland" depending on source data. From that day on, to the end of his life, he grew rapidly, gaining pounds and inches daily to be the heaviest human being recorded in the history of the world. At the age of six, he weighed about two hundred pounds; at ten, he weighed three hundred and eighty pounds. At the age of twenty Robert wore overalls with a nine foot one inch waistband and had to have his mother add two fifteen inch strips of material to regular size twenty shirts in order to cover his one hundred and two inch chest. By the time of his death, he weighed over half a ton. During his adult life, Hughes made guest appearances at carnivals and fairs; plans to appear on the Ed Sullivan television program were announced but never came about. On the 10th of July 1958, Hughes contracted measles, which soon developed into uremia, resulting in his death in Baylis, Illinois; he was 32 years old. He is often said to have been buried in a piano case. This error stems from a sentence that appeared in successive editions of the Guinness Book of World Records, which read, "He was buried in a coffin the size of a piano case." His headstone notes that he was the world's heaviest man at a confirmed 1,041 pounds.
Edward Hagner (1892-1962), who toured with circuses billed as "The Worlds Thinnest Man" grew to 5 feet 7 inches tall, but only weighted 48 pounds. Stricken at age of eight with Simmond's Disease, a form of malnutrition caused by a ruptured pituitary gland. Edward did not gain a pound for 62 years.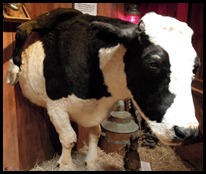 Accidents of nature came in the form of a two-headed rabbit and lamb, a cow with a leg 'growing' out of its back and Mike – the headless chicken. On the 10th of September 1945 a strapping (but tender) five and a half month old Wyandotte rooster was pecking through the dust of Fruita, Colorado. The unsuspecting bird had never looked as delicious as he did that, now famous, day. Clara Olsen was planning on featuring the plump chicken in the evening meal. Husband Lloyd was sent out to dispatch the bird. Nothing about this task turned out to be routine. Lloyd knew his Mother in Law would be dining with them and would savor the neck. He positioned his ax precisely, estimating just the right tolerances, to leave a generous neck bone. "It was as important to Suck-Up to your Mother in Law in the 40's as it is today." A skillful blow was executed and the chicken staggered around like most freshly terminated poultry. Then the determined bird shook off the traumatic event and never looked back. Mike (it is unclear when the famous rooster took on the name) returned to his job of being a chicken. He pecked for food and preened his feathers just like the rest of his barnyard buddies.
When Olsen found Mike the next morning, sleeping with his "head" under his wing, he decided that if Mike had that much will to live, he would figure out a way to feed and water him. With an eyedropper Mike was given grain and water. It was becoming obvious that Mike was special. A week into Mike's new life Olsen packed him up and took him 250 miles to the University of Utah in Salt Lake City. The skeptical scientists were eager to answer all the questions regarding Mike's amazing ability to survive with no head. It was determined that ax blade had missed the jugular vein and a clot had prevented Mike from bleeding to death. Although most of his head was in a jar, most of his brain stem and one ear was left on his body. Since most of a chicken's reflex actions are controlled by the brain stem Mike was able to remain quite healthy.
In the eighteen months that Mike lived as "The Headless Wonder Chicken" he grew from a mere two and a half pounds to nearly eight pounds. In a Gayle Meyer interview Olsen said Mike was a "robust chicken - a fine specimen of a chicken except for not having a head." - "He was a big fat chicken who didn't know he didn't have a head" - "He seemed as happy as any other chicken."
Mike's excellent state of health made it difficult for animal-rights activists to garner much of a following. Even now the town of Fruita celebrates Mike's impressive will to live, not the nature of his handicap. Miracle Mike took on a manager, and with the Olsens in tow, set out on a national tour. Curious sideshow patrons in New York, Atlantic City, Los Angeles and San Diego lined up to pay 25 cents to see Mike. The "Wonder Chicken" was valued at $10,000.00 and insured for the same. His fame and fortune would earn him recognition in Life and Time Magazines. It goes without saying there was a Guinness World Record in all this. While returning from one of these road trips the Olsens stopped at a motel in the Arizona desert. In the middle of the night Mike began to choke. Unable to find the eyedropper used to clear Mike's open esophagus Miracle Mike passed on. Now, Mike's spirit is celebrated the third weekend in May.
Luzon trophy skull from the Philippines with mother of pearl eyes, mounted on a stylised bat. Lily Slippers from the 19th century. At the age of three the daughters of wealthy families had their feet purposely broken and bound so tightly their toes touched their heels. The ideal foot was a mere three inches long and was crushed into the shape resembling the Chinese lotus flower. Shrunken Head from Ecuador. The Jivaro Indians claim their enemies' heads as symbols of bravery and display them, reduced to the size of a fist, as war trophies.
Bear didn't want to hang around too long in this tube. A vertiginous experience. I thought it was great, I really did feel as if I was walking at a very steep angle, not perhaps a big an angle as Bear
The best fun we had was in a DVD machine. We lip-synched to 'I feel good' by the great James Brown. This is a copy of the picture that came out of the photo booth type contraption we entered. By the time we got back to Beez Neez our one minute clip of the event was ready to view in our email inbox. Sadly I couldn't put it on Facebook because of the copyright issue.
ALL IN ALL WE HAD A REALLY GOOD TIME
---