To Pulau Bunting

Beez Neez now Chy Whella
Big Bear and Pepe Millard
Sat 8 Dec 2018 23:47
To Pulau Bunting
Up and ready to leave at seven. The view out the back of the girl, Jerejak Island to our left and Penang to our right.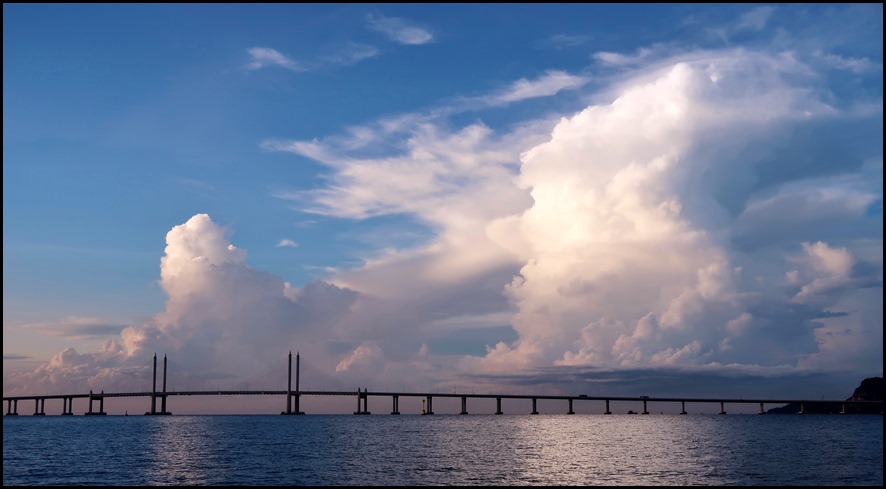 Anchor up and heading toward Second Bridge before turning left, lovely clouds – OOOOps, autopilot stopped. Hand steering it is then.
Bear's duty so I could take pictures, sunrise, Penang and First Bridge.
Actually, the mood on board as we head toward First Bridge was incredibly low. A new autopilot (over two thousand pounds) what next ??? what is there left, what else can go wrong. Bear, stoical as ever, I cannot believe it though, not something else.
Somehow, going under the bridge on a beautiful sunny morning lifted our spirits somewhat.
By the time we saw chums at the port we were OK. These big ladies and working girls of course, will get their own blog (once I have looked up all their details and settled to write the thing).
Brightly coloured ferries went back and forth.
Current line marked with foam as we approach the cruise terminal.
The cruise terminal marks the end of our lane, once past we can bear right into shallow water (well, it's not very deep here to be honest).
Now with five to six metres below us our friends are much smaller. The chap on the right nodded toward his net so a quick right turn.
To our right the four metre line is clearly visible.
My watch and heading toward, through and past lovely little islands with deserted beaches.
I wouldn't go so far as to say I like the new chartplotter but I have to get on with it. Bear has downloaded a more comprehensive manual for me – so...... watch this space to see how the taming goes. Pulau Bunting, our destination is joined to the mainland by a long bridge, they certainly are good at building them here.
Having the sun on our backs, flat-calm water, lovely scenery have all made for a soothing our souls. And no rain for a change.
Ooooo look, a mast, bet we get great internet here, indeed, we did but first I have to dodge fishing markers.
Yup, Beez Neez is anchored on dry land again....... In real terms I circled a couple of times and found the whole area to have five point six metres below us, so despite what the chartplotter says we are quite a distance from the trees. We had a smashing evening of games, nibbles, a sherbet, showers, supper and an episode or two before settling with a green glow from all the squid fishermen who would act as our guards all night. Our sunset. Wonderful, this is what it should be like.
ALL IN ALL A REALLY GOOD DAY – SAVE FOR THE AUTOPILOT......
A BEAUTIFUL DAY AND ANCHORAGE
---