To the Flats

Beez Neez
Skipper and First Mate Millard (Big Bear and Pepe)
Mon 4 Feb 2013 22:27
We joined Gary and Kate on Toodles at 12:45 and left the dock fifteen mutes later for the short journey out to the Flats, Colon to wait for our Advisor. We tucked up back from all these girls at anchor. Eric, Dee and Bear were to be line handlers with Kate and I was allowed to take pictures, YeeHa.
No sooner than Gary had asked permission to enter the main channel from Cristobal Control, than I had a perma-cheesy grin seeing all the working ladies – chums. Anchor down, how wonderful it was to sit and watch the comings and goings in this busiest of ports for a few hours.
How sad the end for this lady
Deliveries on Lombardia, how tiny the support boat looks.
Chums everywhere
Olga Maersk came past us and headed in to be unloaded, with a little nudge from a tug called Capo Noli.
Gary and Kate enjoying the afternoon, before it all begins.

The scene to our right
Chums everywhere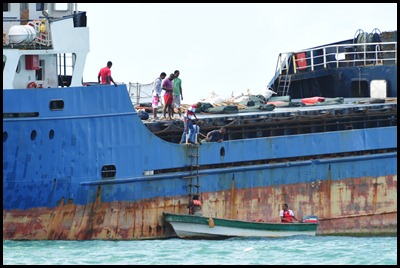 A bit of activity to our left
We saw Hansa Europe appear round the bend completing her journey to this side.
The 48 mile-long international waterway known as the Panama Canal allows ships to pass between the Atlantic Ocean and Pacific Ocean, saving about eight thousand miles from a journey around the southern tip of South America, Cape Horn. This chum built only last year, measures in at seven hundred and eighty seven and a half feet and her beam is just shy of one hundred and five feet. Her dead weight is forty seven thousand, two hundred and sixty seven tons and her maximum speed is seventeen point six knots with an average cruising speed of twelve knots. On Beez Neez we are really chuffed with five, Gary tells us he is quite happy for Toodles to trundle along at over seven knots but her engine is twice the size of Beez at one hundred horse power.
The channel here is well marked
Ever Deluxe was next to appear
Evergreen Marine Corporation was founded on the 1st of September 1968. Today it boasts a fleet of over a hundred container ships, ranking among the world's leading international shipping companies. Evergreen's network covers more than eighty countries in Africa, Asia, Australia, the Caribbean, Europe, the Indian subcontinent, North and South America. Routes include east-west, north-south and regular feeder services.
Ever Deluxe can carry eighty seven passengers, we thought it would be an amazing trip to make our next UK visit on one of these ladies from New Zealand. They offer a hop-on-hop-off route if you are flexible but sadly it's not a cheap way to travel. To circumnavigate is about eight thousand pounds per person – as we would need about half way round, flying is cheaper but less exciting option.
Ever Deluxe was built in 1998 and measures in at nine hundred and fifty five feet with a beam of just over one hundred and five feet, her draught is just over forty one feet compared to Beez at five feet six inches. Her dead weight is fifty five thousand, six hundred and four tons compared to Beez fourteen, just imagine the size of the ladies who will come through after the extension of the Panama Canal is completed in 2015.
We watched as the Pilot left and a member of crew closes the door.
The most expensive toll for canal passage to date was charged in 2012 to a cruise ship, which paid US$419,000. The highest fee for priority passage charged through the Transit Slot Auction System was US$220,300, paid on the 24th of August 2006, by the Panamax tanker Erikoussa, bypassing a 90-ship queue waiting for the end of maintenance works on the Gatun locks, thus avoiding a seven-day delay. The normal fee would have been just US$13,430.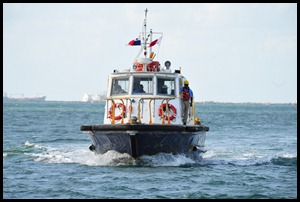 At four o'clock Lisa delivers the Advisor to the African Queen and roars off.
Shortly after our Advisor arrived
Fransisco introduces himself. He has been an Advisor for five years and has more than three hundred transits under his belt.
Soon Fransico said "anchor up" and we headed toward the Gatun Locks for our three upward adventures. Special crew member – Beds looks on in awe.
ALL IN ALL A CHILD IN A SWEET SHOP DOESN'T COVER IT FOR ME
SUCH GLEE ON A FACE
---