Hammocks

Beez Neez now Chy Whella
Big Bear and Pepe Millard
Fri 9 Oct 2009 22:49
Hammocks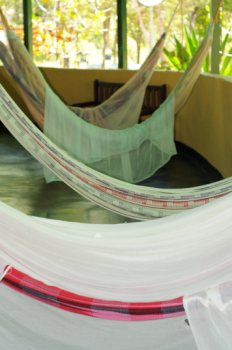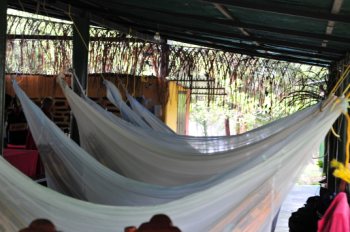 Before we left on our trip Anne had sent us this that she had found out about sleeping in hammocks.
Hammocks - Sleeping, if you have never slept in a hammock, you are missing one of the greatest benefits. Hammocks are incredibly comfortable for lounging and relaxing the day away, but when it comes to sleeping, a completely new experience opens up. Interestingly, scientific studies have been performed to determine just how comfortable and healthy hammocks are for sleeping. The findings showed that people, who sleep in hammocks instead of the traditional bed, reach the deep sleep state far more consistently. This level of sleep is what helps improve and maintain the highest level of health by allowing the body to restore and regenerate.
Studies have also found that when a person is deprived from sleep, their immune system, metabolic functions, and overall optimal health is greatly diminished. The body needs this deep sleep to function properly. Millions of people around the world struggle with getting a good night's rest and go through life tired, grumpy, and unhealthy. Waking in the morning, feeling revived and energized, is what good sleep does. Unfortunately, people take sleeping pills, use aromatherapy, and try a number of alternatives just to sleep, overlooking something as simple as a hammock.

Sleeping on a hammock greatly improves a person's quality of sleep, from simple problems caused by daily stress to the more complex problems such as sleep apnoea. Current medical studies have shown that sleeping well is the greatest solution for many things such as depression, anger, and anxiety. If you have ever received a back massage or spent time relaxing in a Jacuzzi, you know how relaxed you feel. Sleeping in a hammock can help you feel that same level of relaxation. The reason is that when sleeping on a traditional bed, the body's pressure points are pressed into the mattress, without much give. With a hammock, the weight distribution makes a person feel as though they are floating in air, with no pressure being placed on the body.

More and more, people are enjoying these benefits by moving their traditional bed out and moving a soft, cosy hammock in. People that have suffered with sleeping for years and then changed to sleeping on a hammock are amazed at the immediate change, not only physically, but also mentally and emotionally.
OK How did we get on ????
Fred told us he had slept in a hammock for a year whilst serving in Vietnam. At base camp he became our Temporary Hammock Insertion Manager Bed Liaison Executive or THIMBLE - but was quickly sacked when he ignored Alan who wanted a lesson in extraction. Anne told Beds all about sitting.
Fred told us how to lay diagonally to get the flattest laying position. I sleep on my side so I did nothing but fight mine after my lesson. Fred in the "art of cool" and not so when his fell off completely and needed 'a little adjustment' with Connie's able assistance.
After lunch it was time for a serious siesta. Leona looked ladylike, Bill fought a bit and Branko soon slept like a baby.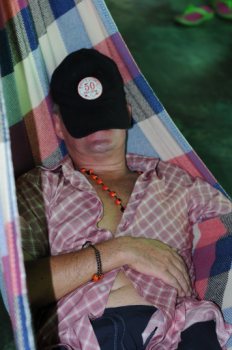 Alan after saying "I don't think this is for me" was heard gently snoring. Anne continued to fight. Needless to say who snored first !!!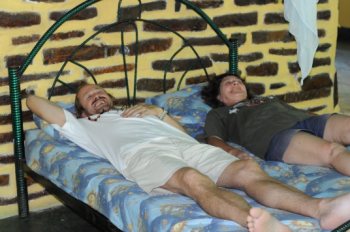 Jochen and Traudl took the conventional bed. Pat looked cool. After a bit of al fresco giggling these two proved they could snore "It's because we have colds" Yeah right - heard that before.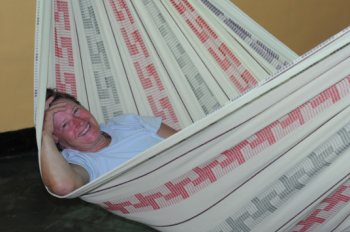 Connie rested. Mike refreshed and ready for the off. Pat still chatting to me, I was sitting on the other al fresco bed taking it all in.
Beautiful picture of a local hammock - but I for one am not chucking my mattress overboard
ALL IN ALL A BENIGN LOOKING INERT OBJECT UNTIL I TRIED TO GET SETTLED IN IT- THEN IT WAS LIKE FIGHTING WITH A BEHEMOTH.
SLEPT VERY WELL AND COMFORTABLY.
YOU WOULD.
---