Butterfly House

Beez Neez now Chy Whella
Big Bear and Pepe Millard
Sat 27 Sep 2014 22:57
Butterfly and Orchid House, Tararu, Thames
After lunch on Mabel we walked through a very tired entrance walkway from the Kiwi Holiday Park to the Butterfly House. Not sure what the relationship is between the two different owners but it seems not to be one made in heaven. Anyway, as soon as we entered the heat and humidity our thoughts turned to warming our cameras, in front of the thoughtfully placed hairdryer near the door. There were the usual lovely suspects to be seen in a tropical house.
Then a new one on us, a banana in flower.
A pitcher plant – one open, one closed.
White ginger.
Two really new to us, the Dutchman's pipe. The batwing plant – seen as a pest in the wild and to be reported if found. Shame as we thought it looked different and the flowers are quite pretty but, it chokes its neighbours to death.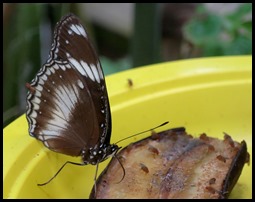 There are about four hundred butterflies in this butterfly house. Due to their short life span of about two weeks they need to replace about a thousand a month. Fifty per cent are bred here. About five hundred chrysalises come in from Asia, South America and the Philippines, these imported chaps go into quarantine until they hatch and are then transferred into the butterfly house. The Department of Conservation strictly controls these imports and already this year three species of butterfly have been put on the banned list. What a shame as they cannot escape from here and it may be the only chance some species have to keep going. Next we bimbled in search of closer looks at these beautiful creatures, but I would caution some of them to keep to a speed limit so we can enjoy them as they were just too fast. Some rested quietly in a well behaved manner, some fed their faces but the second you got into position they shot off, some clearly only had one thing on their mind.........
Making the next generation.
The next generation – still amazes us that a caterpillar becomes a butterfly.
ALL IN ALL A LOVELY SURPRISE
A REALLY GOOD FIND
---