Curry on Salty

Beez Neez now Chy Whella
Big Bear and Pepe Millard
Sat 5 Oct 2019 23:57
Curry Night on Salty Dog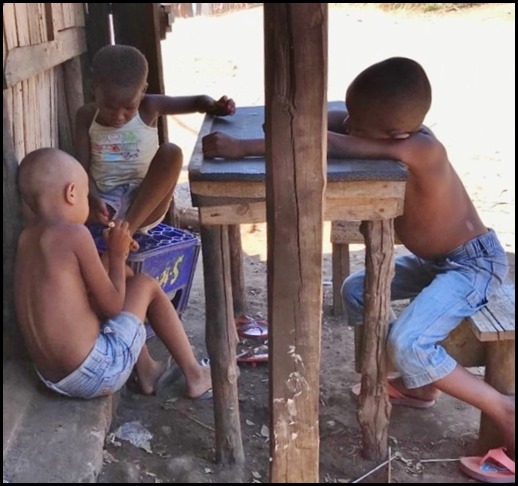 This morning I settled to the mammoth task of filling Vince's 3tb external hard drive. Like a hen at her chicks - set some copying, do some housework, check download, set more copying, more chores and repeat. Quite productive but slow going until we left Beez at five for a curry night on Salty Dog. Meanwhile, Bear and Vince bimbled up to the village – Bear to get more local rum at a pound a litre and Vince for some bits. They took this lovely picture of a little boy painting his sisters toes, patiently and with great care, whilst his friend (probably brother) looked on.
Settled on Salty, we were enjoying the snacks we had taken, when the sunset looked to be the start of a special one. No camera, well what can happen on a boat we had visited before with people we know, such a short distance away from Beez Neez ???
A corker of a sunset. We all hurried to the front. I had to ask for Vince's pictures. Renee took this one of Ken, me, Bear, Beatie, Allen, Vince and Andre.
Vince's attempt at a selfie, at least Renee is in this one.
To the left we could see rain falling on the mainland.
As the colour of the sky changed so the lightning began over Komba. It worked its way around the bay and circled slowly. We had a little rain, the breeze stiff enough to cool us down.
A spectacular light show and all the while the rainclouds got darker. Curry was help yourself with Renee's bread, my salad and Allen's potato side dish. For afters Beattie had baked a delicious brandy pudding with custard. The most wonderful thing about a group of yachties getting together is how a meal literally comes together, always different, always tasty and the accompanying stories and chat memorable.
ALL IN ALL YET ANOTHER GREAT 'DO'
A PROPER SATURDAY CURRY NIGHT
---