Bhaleshwor Mahadev

Beez Neez
Skipper and First Mate Millard (Big Bear and Pepe)
Mon 2 Apr 2018 22:47
Bhaleshwor Mahadev – The Temple by the Upper Station on the Chandragiri Hill
We left the cable car at the upper station and walked up the hill to the temple - Bhaleshwor Mahadev
Brief Description on Bhaleshwor Mahadev as seen on the information board.
Mythological Significance: With reference to the description written in Himvatkhanda, Bhaleshwor Mahadev appeared at the spot where Satidevi's 'Bhala' or the forehead fell off from her dead body. It is believed that Satidevi, Shiva's consort, gave up her life by jumping in a fire at her father Daksha Prajapati's yagna (sacred fire ritual) after Daksha insulted her husband Shiva in front of scores of gods and goddesses invited at the religious ceremony. An enraged Shiva then carried her dead body on his back and walked across the world like a madman for a long span of time, without taking note of Satidevi's decaying body. Different 'shakti-centres' were established at sites where different parts of Satidevi's body fell in the course of Lord Shiva's mourning.
A temple was erected at the same site where Bhaleshwor Mahadev appeared.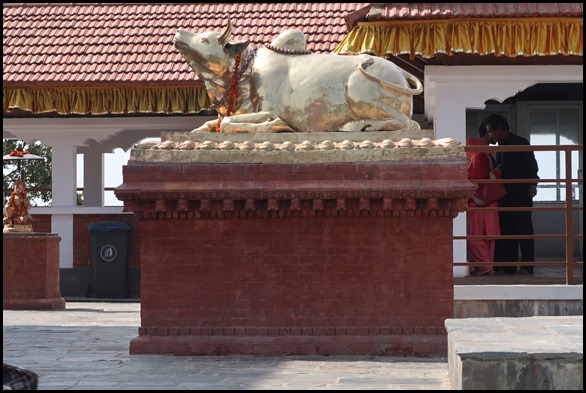 The legend of Bhaleshwor Mahadev is also associated with Gandharva, a low ranking Hindu deity, named Sumukha. Sumukha forcedly kissed Rambha, and angel who had recently retired as a courtier at Heaven, believed to be Indra's (king of gods) kingdom. Rambha then cursed Sumukha for his misdemeanour after which he was forced to live on earth leaving his abode in the heaven. Sumukha was wandering around the mortal world while living the curse when met a sage, Galab, who suggested a way out for Sumukha to repent and break the curse. Sage Galab advised Sumukha that he should offer prayers before Bhaleshwor Mahadev after purifying himself every day as penance. Fortunately, in due course, Mahadev was pleased and he blessed Sumukha, following which he settled down with Rambha. Sumukha was also taken in as a close aide by Mahadev.
The Himvatkhanda also has another folklore tied in with the Bhaleshwor Mahadev. A Brahmin named Birupas was suffering from leprosy as a result of the sins he had committed in his past life. The leper Birupas was wandering aimlessly in his misery when he came across Sage Nemuni who advised him to visit 64 different Shiva temples.
It is believed that the people who come here to worship Bhaleshwor get their wishes fulfilled and that they will find abode in the Shivaloka or Lord Shiva's world in their after life.
Too chippy to take our shoes off to go in to the temple, we admired those that also washed their feet in the really cold water
We did like the wheelbarrow though
The water feature
Of course he did.....
Historical Significance: Chandragiri hills carry historical significance as well. It was from these hills that King Prithivi Narayan Shah caught the first glimpse of a much scenic and prosperous Kathmandu Valley, which in fact instilled in the king's mind an idea of annexing the valley into his kingdom. According to folklore, Prithivi Narayan Shah is believed to have amassed spiritual powers for unification process after undergoing rigorous 'sadhana' or meditation at these very hills. The Gorkhali King disguised himself while ascending the hills in order to avoid being recognized by the Malla Kings of Kathmandu Valley.
In his 'Divyopadesh' (Divine Preaching), it has been mentioned that King Prithivi Narayan Shah was determined to first annex and then make Kathmandu the capital of unified Nepal. He apparently first saw the valley while on his way back to his kingdom in Gorkha from his in-law's realm in Makwanpur. Astrologers Bhanu Aryal and Kulananda Dhakal who accompanied the king during that trip had made a prediction that their king's wish to takeover Kathmandu would definitely come true. AS per popular belief, pleased with his perseverance and Sadhana, it was Bhaleshwor Mahadev that granted King Prithivi Narayan Shah his wishes.
(Based on the study of Professor Dinesh Raj Panta).
From the far corner we would have had an amazing view over the Kathmandu Valley but sadly, too hazy.
We had to go back to the information board to see what the mountains would look like on a clear day.
ALL IN ALL A NICE BIMBLE AROUND A COMPLEX STORY
RATHER NICELY SET OUT
---