Fowey Visit 2018

Beez Neez now Chy Whella
Big Bear and Pepe Millard
Fri 13 Jul 2018 22:57
A Visit to Our Beloved Fowey
After the skinny streets down from the view at the top, we parked right next to Fowey Harbour Offices (the very one we checked out of England from ten years ago) to set off on our global at-venture aboard the good ship Beez Neez.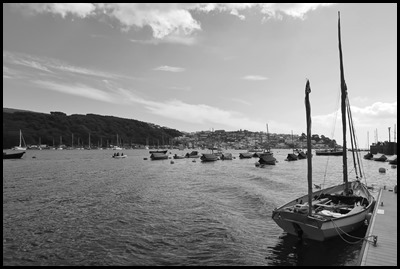 Lovely to stroll down the Albert Quay walkway and take in the scenery once more.
Looking upriver toward Bodinnick.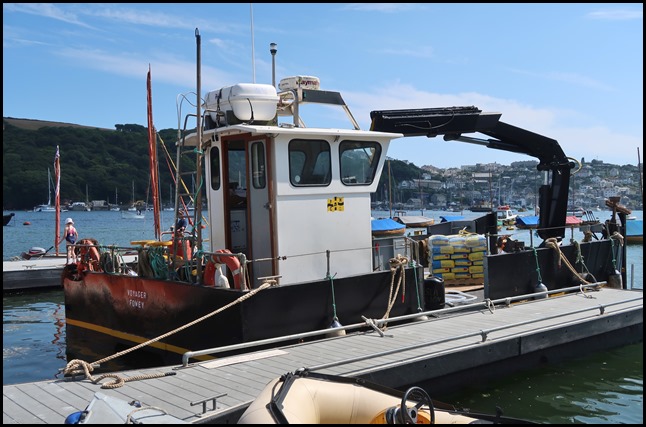 A happy working girl having a rest.
Bear messes about as Chris and Steve (aka The Scotties) pose. Settled in the Well House for a 'proper job' Cornish cream tea.
A much nicer picture. Reputedly the oldest house in Fowey, the Well House dates back to around 1430, the year before Joan of Arc was burnt at the stake and half a century before Christopher Columbus discovered America. When Henry VIII came to the throne the house was nearly 80 years old, and when his daughter, Elizabeth I, succeeded him it was 128 years old!
Although known by different names over the centuries (for example "The Old House of Foye) the property is now called the Well House because there is a medieval well in the rear courtyard.
Originally a Merchant's house, the Well House has undergone many changes and uses over the centuries. It was a museum from the early 1970s through to the late 1990s. In recent years it has been a florist and a Gift Shop. It became a Bed and Breakfast in 2006 and a Tea Rooms in 2009. The timbers seen behind the group come from the Jane Slade.
The Jane Slade, an image of the Well House around 1972 when it was a Folk Museum and I loved the sign on the wall....
The Jane Slade was launched in 1870 and worked out of Fowey. She was built in Fowey for the Slade family, who were involved in shipping.
The schooner inspired the author Daphne du Maurier who noticed this vessel lying up the Pont river near Fowey when she was first learning to sail in 1927.
Daphne investigated the history of the Jane Slade and the woman the ship was named after. Jane Slade was an unusual woman of her time due to her active involvement in the shipping business. Daphne's research was for a novel covering four generations of the Slade family.
This book was 'The Loving Spirit'. The character of Janet Coombe is based on Daphne du Maurier's knowledge of Jane Slade.
Marine Cellar. June 1969. After cleaning but prior to renovation. Note: earth and remains of cobble floor: original fifteenth century beams and flooring above – now largely replaced as timbers were beyond restoration.
Leaving this gem of an establishment, Bear looked huge by the small doorway, we bimbled along to show The Scotties exactly where Beez Neez left from. Incredible that they showed us exactly where Scott-Free left from only yesterday, from Mayflower Marina, Plymouth, also in 2008, yet we were not to meet until Panama. First, Bear had to dust off his Trigger Finger.
An information board we have never seen before: 200 BC – 43 AD. Sea trade with Mediterranean. Possibly trading post at Readymoney at mouth of harbour.
700 – 800. Churches and chapels built at Fowey, Bodinninck, Lanteglos Parish and Polruan
1336. Prosperity encouraged by exports of fish, wool, tin and in carrying pilgrims to Spain. Imports of wine, salt and iron from France and Iberia.
1371. John of Gaunt and his new bride, Constance of Castile, land Fowey from France
1380. Blockhouses built at Fowey and Polruan to defend harbour
1415. 100 archers sail from Fowey to take part in Battle of Agincourt
1433 & 1450. Mark Mixstowe and his ship Edward of Polruan implicated in acts of piracy.
1456 & 1457. Fowey ransacked by French raiders. Elizabeth Treffry defends Place
1474. Edward IV orders arrest of Fowey pirates
1498. 143,400 lbs of tin exported from Fowey
1535. The dissolution of Tywardreath Priory ends its jurisdiction over Fowey
1540. St Catherine's castle built as part of Henry VIII's coastal defences
1571. Fowey can elect two MP's of Parliament
1578 – 1585. Philip Rashleigh's ship Francis of Fowey sails with Frobisher to Arctic and with Drake to West Indies
1644. King Charles I narrowly misses being killed by a sniper as he walks along Hall Walk
1667. Dutch fleet threaten harbour
1686. Fowey gets Royal Charter and Rashleigh's ship Francis forms part of the new town arms
1693. Due to war the tin convoys from the harbour are escorted by the navy to London
1747. Shipwrights from Fowey harbour are recruited to work at new navy dockyard in Plymouth
1807. Nickels shipyard launches warship HMS Primrose from Caffa Mill
1824. Mayor of Fowey accused of smuggling
1832. Fowey loses the right to elect two Members of Parliament
1846. Visit of Queen Victoria and Prince Albert
1860. First cottage hospital opens in Webb Street, only 3rd in country
1864. Visit of Guiseppe Garibaldi, Italian patriot, who is met by large crowds
1870. Ship Jane Slade is launched from Polruan and later inspires Daphne du Maurier's first novel
1922. Lifeboat station moves to Fowey from Polruan
1929. First of the Troy Class yachts by Archie Watty for Sir Charles Hanson. Du Maurier family buy a home in Bodinnick
1935 – 1945. RAF opens air sea rescue base. US Navy establishes training base. Port bombed in daylight raid and becomes base for D-Day ships
1962. Visit of Queen Elizabeth II and Prince Philip
1965. Fowey passenger railway closes
1986. 1.6 million tons of China Clay were handled by Fowey Docks
2000. Over 7000 craft visit Fowey Harbour from all over the world
2011. Roman steelyard weight found in Bodinnick
We enjoyed watching 'the catch of the day' coming in and being offloaded. Big crabs and lobsters, away to the local restaurants, no doubt....... before it was time for a Cornish ice cream and heading back to Eva. To finish the blog, the picture The Scotties took of The Beezers.
ALL IN ALL SUCH A GORGEOUS PLACE
LOVELY TO RETURN TO OUR STARTING POINT
---