Nariva 2

Beez Neez
Skipper and First Mate Millard (Big Bear and Pepe)
Thu 22 Jul 2010 22:20
Nariva Swamp - Return Visit
We always seek new ventures but felt a return trip to the Nariva Swamp was needed. Our first visit was late in the season last year, we only saw one monkey, few birds and I got bitten by at least seventy of the ninety two resident species of mosquito. This time Jesse picked us up at 06:00, a lay in from the previous 05:30. I sprayed my body with 100% Deet, my clothing with 50% (they bit me through my trousers last time) and face and hands with Off, feeling confident I was on top of the 'bug thing'. We had a good journey with lots of quiz questions from Jesse between phone calls and arrived to welcomes from Short Man and Sharwar. The group was soon loaded into the boat and off we went, within minutes a couple of green parrots were seen in the early morning sun sitting atop a dead palm trunk. Then excitement for me as a savanna hawk was spotted.
The Savanna Hawk (Buteogallus meridionalis) is a large raptor found in open savanna and swamp edges. It breeds from Panama and Trinidad south to Bolivia, Uruguay and central Argentina. The Savanna Hawk is 46–61 cm in length and weighs 845 grams. The adult has a rufous body with grey mottling above and fine black barring below. The flight feathers of the long broad wings are black and the tail is banded black and white. The legs are yellow. The Savanna Hawk feeds on small mammals, lizards, snakes, crabs and large insects. It usually sits on an open high perch from which it swoops on its prey, but will also hunt on foot and several birds may gather at grass fires. The call is a loud scream keeeeru. The nest is of sticks lined with grass and built in a palm tree. The clutch is a single white egg, and the young take 6.5 to 7.5 weeks to fledging. Immature birds are similar to the adults but have darker, duller upperparts, paler underparts with coarser barring and a whitish supercilium. This species perches very horizontally and its legs are strikingly long. What a wow for a raptor lover.
Jesse keeping a sharp eye out for any creatures of interest - of course maintaining his business at the same time
Jesse James. Members Only Maxi Taxi Service is the most vital link and resource for any yachties in Chaguaramas. He is a font of local knowledge, the Ocean Cruising Club Port Officer, provider of tours, shopping runs, taxis to the airport and all round hard-working, friendly, good guy.
Soon the main reason for any Nariva trip to see a troop of Red Howler Monkeys
These boys were so pleased to see us they showered us with a 'welcome'
Mum and baby a little camera shy
Then a little smile for us
Then a huge wow, our first ever yellow and blue macaw in the wild - right in the centre of the picture you can just see a blue tail, which just goes to show how good our guides are at finding things to point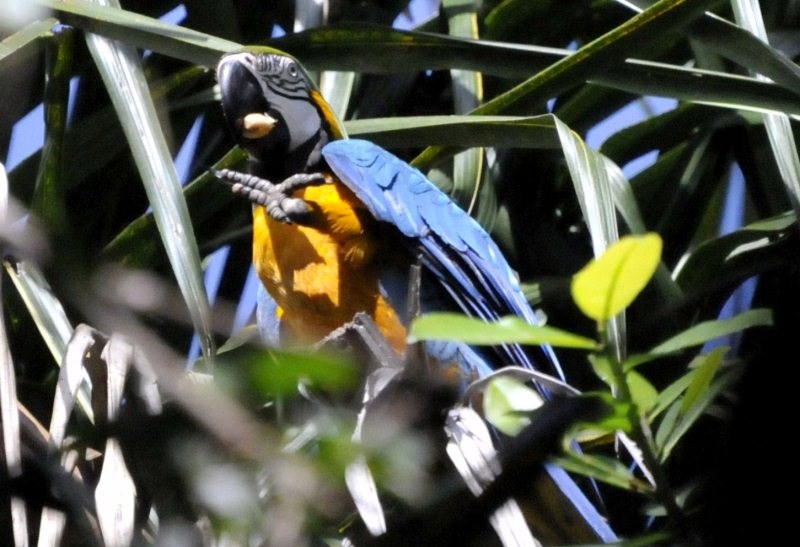 A nut for breakfast
Then we saw white faced weeping capuchin monkeys - this one engrossed in a mango
This one enjoying the simple pleasure of a back leg scratch
A nice shot taken by Bear as we waited for this chap to come down for a donated banana
A blue morpho and friend
And one taken by Bear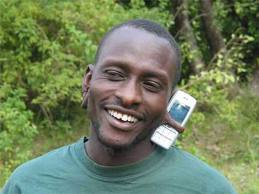 Our Intrepid One, in spotting mode and some suggestions for you Jesse
A couple of dragonflies
A smooth-billed Ani
Our tally for the visit: Pygmy Kingfisher, Cara Cara, Blue and Gold Macaw, Savanna Hawk, Southern Lapwing, Squirrel Cuckoo, Pied Water Tyrant, Black-bellied Tree Whistling Duck, Limpkin, Wattled Jacana, Barred Antshrike, Smooth-billed Ani, Olive Flycatcher, Kiskadee, Palm Tanager, Blue and Grey Tanager, Scaled Pigeon, Carib Grackle, Grass Wilk, Striated Heron, Snowy White Egret, Blue Heron, Red Howler Monkey, White Faced Weeping Capuchin Monkey and many insects and flowers.
The Pied Water Tyrant, Fluvicola pica, is a small passerine bird in the tyrant flycatcher family. It breeds in tropical South America from Panama and Trinidad south to Bolivia and Argentina.
Unlike our last visit the water levels were high, the outboard was working and we had a peaceful return journey, no paddling involved
Back at base we saw a house spider - Trinidad style
As we said our goodbyes and thanked Short Man and Sharmore, just chance to check the progress of the on site 'One Careful Owner'
As before Jesse insisted we remove dirty, wet and muddy clothing to maintain his lovely clean minibus. Then it was off to the Roti Shack for late lunch and as we had all been good - a search for ice cream. The usual lady Jesse stops at in Carenage was having a day off, the shack by Williams Bay had none, but a couple of phone calls from the intrepid Jesse and a stash was found at Nancy's, the shop at TTSA (Trinidad and Tobago Sailing Association) here in Chaguaramas. Mixed flavours were handed back in a bag as a 'lucky dip'. It may not have been home made as such, but it was a local brew made here in Trinidad and let's face it, when you look forward to something and nearly miss out it made it taste all the better.
ALL IN ALL A FANTASTIC TRIP
QUITE SOMETHING
and from Jesse A FINE, FINE DAY
---