Wonderful Surprise

Beez Neez now Chy Whella
Big Bear and Pepe Millard
Wed 7 Mar 2012 23:57
It's a nightmare to get Joe to smile but we forced one out of him
Joe came to bid us farewell, he is off to Helmund Province, Afghanistan on Saturday for six months - his second tour. As a surprise for us, he rang Miffy, who drove up from Portsmouth (had to get special permission to leave his course) pick Joe up from camp and in the pair walked, what a wonderful thing to do boys – Thank You.
Fun with Jack
Messing about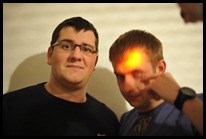 Preparing and getting Bear back for keep using his flash
The 'full of flu' Kate and proving you can bond over a tissue
For five minutes, our little boys once more
Serious words, advise about waving a tissue and a hug from Kate
Of course we had fun during this precious visit, but we did remember what happened this very morning to the six lads that lost their lives, our hearts go out to their families.
Bella Detesta Matribus – war is the dread of mothers.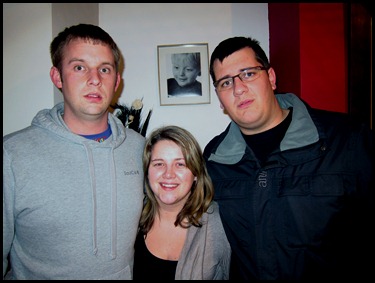 Sadly time to say farewell. Please may I lose three stone this time instead of putting it on like the last time. I may never eat tinned spaghetti ever again, it always reminds me of that first tour. Everyday I would stand in front of the larder; open a tin, eat it cold from the tin, get indigestion and repeat the process almost immediately, I don't even like cold spaghetti. Mobile phones are banned so Joe has set us up a thing called an ebluey, so at least we can email him and send the odd picture.
Sancte Michael Archangele, defende nos in proelio, contra nequitiam et insidias diaboli esto praesidium. Imperet illi Deus, supplices deprecamur: tuque, Princeps militiae coelestis, Satanam aliosque spiritus malignos, qui ad perditionem animarum pervagantur in mundo, divina virtute, in infernum detrude. Amen.
ALL IN ALL MEA ANIMA EST CUM TE
NOSTRA ANIMAE SUNT CUM VOBIS
.
---