Cross on the Hill

Beez Neez
Skipper and First Mate Millard (Big Bear and Pepe)
Sat 30 Jun 2012 22:59
Cerro de la Cruz
We took a taxi to the top of the hill – Dorothy took this picture of us but failed to ask me what I was pointing at, or ask the dog to move.
Bear wants it mentioned that his taxi ride was interesting over the bumps, as he was bundled in the boot
The views were lovely up here
We met this very casual dog, happy to smile for the camera
Sadly this pretty area has many armed guards and police patrols reducing the risk of muggings
We enjoyed the views
Stopped at the Cross on the Hill
Antigua stretches out below
We had fun picking out which building might be our school. Lord Mac suggested the it may be the red square building with the nice sturdy locks, armed guards and pretty uniforms. All we know for sure is that it is to the right of the big yellow church – La Merced.
We began our steep descent through the woods back to town
At the bottom of the hill was a basketball court, behind it the ruins of Iglesia de la Candelaria
We passed this darling little garden and watched as a chest bimbled by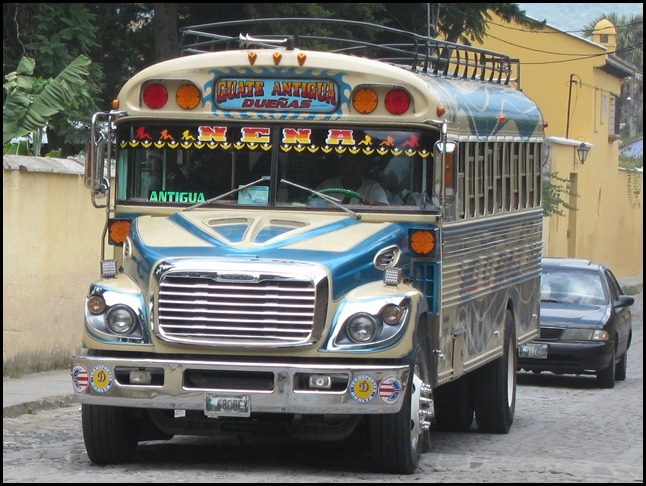 Bear has found out that the buses we have seen since our arrival in Guatemala, are all indeed ex American school busses, that have already seen 160,000 useful service miles. They are towed here through Mexico, have the engines stripped - many more horse power added, increased to a six speed gearbox to deal with the steep hills, painted and decorated to serve on into becoming very elderly ladies.
ALL IN ALL FABULOUS VIEWS
.
---