Rain Forest Visit

Beez Neez
Skipper and First Mate Millard (Big Bear and Pepe)
Sun 22 Feb 2009 19:41
The Rain Forest of St Lucia
As well as touring an island we hope to find something unique to an area that will stand out, for example, the goats up trees in Morocco, here in St Lucia is the rain forest. Off we went on Sunday 22nd February for the half hour bus journey to ride a suspended pram through, up and over the forest.
When we first left England I followed a few blogs and we literally followed a catamaran called Troutbridge, pulling in to places weeks after it had left. We finally got to meet Peter in Barbados and again here in Rodney Bay. Peter joined us with Helen his crew for our day out.
Waiting for our pram with Pete and Helen to our right.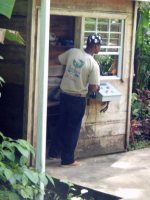 Various views of the pram. Empty, us aboard, on the lower wire on the out journey with returning people above us and vice versa when we were on the downward journey. In photo seven in the centre of the shot are people walking below us, some 100 feet.
A shot of the entrance to the forest and high above a tree fern.
Some of the flowers.
Some of the plants many people will recognise as house plants, here grown where the birds drop the seeds.
The first tree - known locally as 'fisherman's tree' is used to make canoes, the inner tissue is used in the rivers, it irritates a fishes eyes so they leap out onto the bank to be collected for supper. Bear by a root that wasn't bothered about a rock being in the way. The final tree is of the Ficus family, it sends many shoots up a host tree eventually strangling it to death, at this point the shoots then fill in the gaps making a solid trunk.
The tree in the centre is a white flowering Magnolia. Here in the rain forest about 160 inches of rain falls per year, which is a huge amount for a tropical island. The largest trees here take up 8 gallons of water per day.
How tiny this tree climbing fern starts out, climbing and at full grown. If you cut three feet in length it will keep you supplied with drinking water.
Bear by what the locals use as a Christmas tree, me ready for the jungle, Bear and Pete listening attentively to Ron, our guide. Me distracting the boys to take this photo.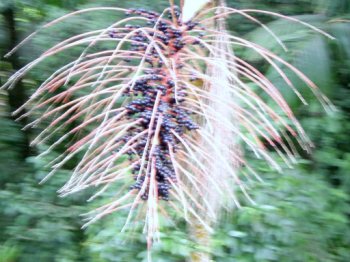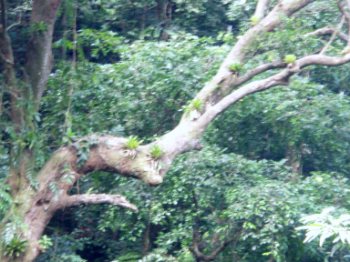 A termite nest, fruit of one of the palms and Bromeliad - air plants of the pineapple family seen on the tree branch - Tillandsia Exelsa - Pino. We also saw an abundance of Mistletoe and so many different trees including the West Indian Mahogany, Maho Pima - Gwa Bwa, the Gommier tree whose fruit feeds the St Lucian Parrot and many others.
View from the top of the forest overlooking Marigot Bay. On a clear day you can see Martinique.
ALL in ALL an amazing experience, a unique experience not to be missed.
---