To Texan Bay

Beez Neez now Chy Whella
Big Bear and Pepe Millard
Thu 20 Dec 2012 23:27
To Texan Bay, Just Down the River
Our final look across the river, who do we see ???
Beatrice and Hunda pass by en route to Lake Izabal for Christmas, have a good one.
Time for us to pull out, do a couple of circles to check the compass. We get a good fly-by from the cormorants and off we go.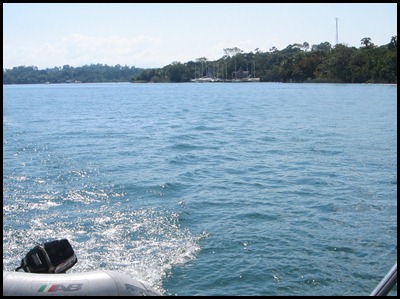 Tortugal Marina falls behind and the skipper gives a wave as we go under the bridge
We pass cormorant roost, full as usual
The bridge falls behind
Six months on and all seems unchanged down the river
Skipper checks his 'Bad Elf' gadget and checks it against our GPS, Yep, that's where we are
Oh Good Dear.
Have you ever seen anyone whip off a flip-flop and wield it menacingly toward the back of a neck
Bear Has
Settle Bear, Settle
That's better, much more the usual pose
Soon we pulled in to Texan Bay and anchored with just a couple of others
A gentle sunset after a very gentle seven miles. So good to see the girl at anchor
We were anchored by three thirty and it was really lovely to take a swim off the back of Beez. We went ashore for supper and a couple of sherbets. Soon back on board for our first night at anchor in six months.
ALL IN ALL A VERY GENTLE START
---