Spirit Launch

Beez Neez now Chy Whella
Big Bear and Pepe Millard
Wed 10 May 2017 22:57
Spirit of Padstow Launch
The day was spent in bed or in the loo as the bug continued to rage in me. Being upright by half past five became a huge ambition as Bear had returned from the little shop on the campsite with intelligence. The RNLI training exercise takes place this afternoon at six. I have always wanted to watch a launch. Well then, you shall see it this very day, even if I have to crawl wearing an unattractive nappy..............twenty to six and everything clenched......., we walked slowly the little way from Maud to the beach, (the corner of the campsite visible on the right).
Looking out over Polventon Bay.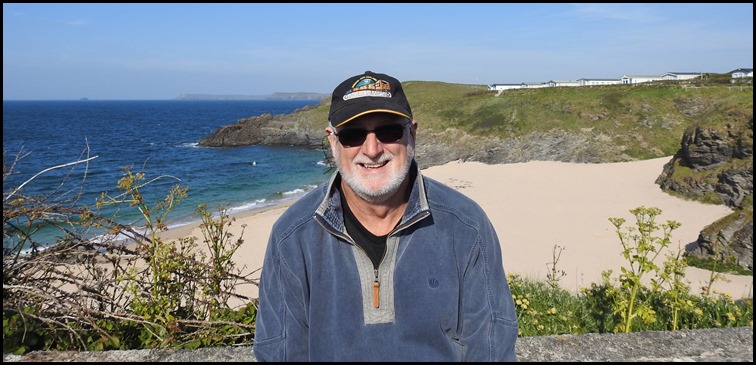 An anticipatory Bear.
Looking left, out toward the Merope Rocks – in the shadows RNLI Padstow.
Zoomed in on the Station and a building view from Wiki.
We bimbled along the path toward the Station, but found too much shrubbery in the way. Walking back to the other side of the bay we positioned ourselves on a wall and waited for the practise launch to begin. Great excitement as the shed door opened and the nose of the Spirit of Padstow appeared, then more.
There, she was fully out of her nest.
Ready but why the wait ???, later we looked on YouTube and saw that this is the time needed to fix aerials and equipment in place.
Like us, this couple were waiting for the action.
Five minutes later, off she went.
Thrilling to see her get her feet wet.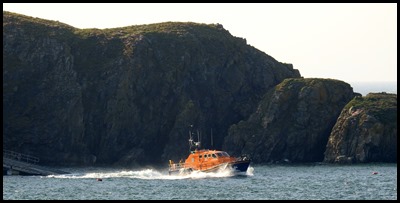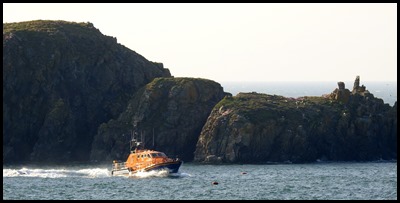 We could hear her engines roar into gear.
Spectacular to watch as she made to round the rocks.
Our admiration of these selfless and brave men and women knows no bounds.......
The class name comes from the River Tamar which flows through Plymouth Sound and into the English Channel, they were manufactured by Babcock International Group.
There she goes. We watched and bimbled home happy in the knowledge that the RNLI is always there – often for complete numpties.
ALL IN ALL A TRULY WONDERFUL THING TO WATCH
ANOTHER LIFETIME AMBITION FULFILLED
---