To The Chagos Archipelago

Beez Neez now Chy Whella
Big Bear and Pepe Millard
Fri 14 Jun 2019 23:57
To Ile Fouquet, Chagos Archipelago, BIOT
Tuesday the 11th of June. All ready to leave by nine o'clock but just as Bear was starting to lift the anchor the other two boats from along the way, who had been told by the authorities to move in, were about to make their entrance. Sunkist and Don Leon arrived, we exchanged a few words, they wished us a safe journey and off we went leaving them to anchor where we had been.
No sooner than I had got us out of the anchorage than Bear hoisted the main.
Bear's duty, so he took us through the pass, sixteen metres below, following our track in whilst I took pictures of the waves crashing over the reef to our right. At two we swapped to my watch, Bear pulled out the genoa and put the watermaker on. Our speed shot up to six and a bit knots, we were on our way.
Late lunch that Bear really got stuck into......as the mayo shows.
A lovely sunset.
Wednesday the 12th of June. A really special flag ceremony, the long awaited trip to hoist the British Indian Ocean Territory flag.

The blue, calm sea with just a few fluffy clouds.
At three o'clock we crossed the line of Fishing Protection Boundary of BIOT and I nipped to the office to send an email letting the authorities know we were here.

A gorgeous sunny day and sunset followed by a shooting star.
Thursday the 13th of June. Fully in the swing of life at sea, four hour shifts and a game of backgammon. I won five one and managed to sneak twenty dollars in bets. Growling, don't upset me.
Seven in the evening and the sun about to drop.
Twenty past seven and the sky was beautiful. A couple of brown footed boobies had spent the afternoon circling and clucking, as soon as it was dark one tried to settle on the solar panel and one on the front. By morning six more had joined the gang. Thankfully they didn't find Beez comfortable and stayed on the wing, this worked for us as we really did not fancy cleaning up after our eight new friends.

Friday the 14th of June.
I went to bed as usual at six this morning knowing I would be called, this happened at eight and I came out to catch my first glance of one of the Salomon Islands of this ocean paradise. No shops, no internet and lots of rules to take care of one of the
largest marine protected areas in the world.
Looking across the reef at the entrance we saw a rainbow – a good omen.
Passing the breaking waves along the reef.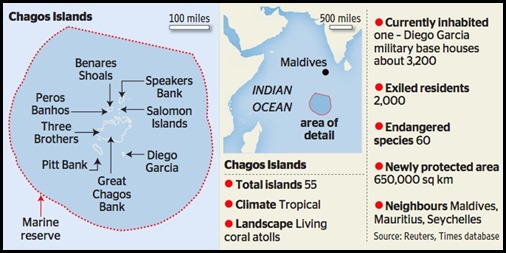 From the Chagos Trust: Why is the Chagos Archipelago so important? Because many different forms of life call it home, from the coral reefs to the various species that live on more than 55 islands. It consists of five atolls, including The Great Chagos Bank - the largest atoll in the world. Its unique habitats include 66,000 square kilometres of shallow reefs, vast deep-sea plains and limestone platforms, as well as 86 sea mounts and 243 deep sea-knolls.
More than 300 species of coral can be found in the archipelago, as well as 800 different types of fish. The tropical ecosystem enables a kaleidoscope of wildlife to thrive. As many as 800 species of fish can be found in the archipelago, including rays, skates and more than 50 different types of shark. Around 175,000 pairs of seabirds visit the islands to breed, and the archipelago shelters populations of, turtles, coconut crabs and many species of fish, including tuna. It is a breeding ground for many vulnerable types of wildlife, and a haven that is worth protecting. We will certainly cherish our visit here.
Bear took us through the pass as I stood at the front in case of any reef bommies, shallowest bit – four metres below, but we were soon back in twenty metres. Crystal clear water and a lesser frigate bird keeping a watchful eye.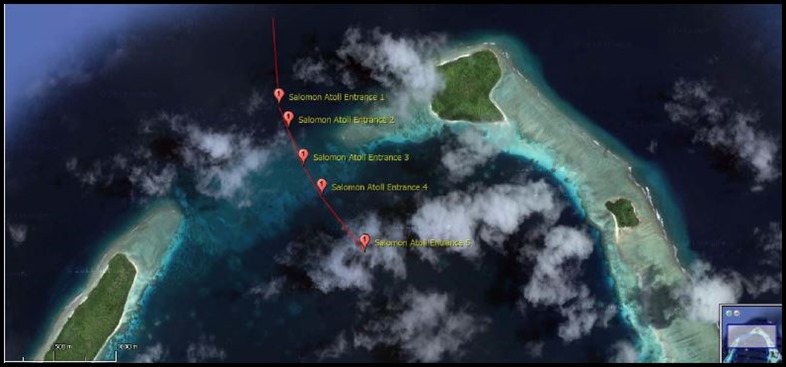 A Google Earth's eye view of the Pass.
Looking across this huge atoll.
The sun Obscured by Clouds, yes a Pink Floyd memory.
Heading to Fouquet Island.
Ile Fouquet ahead, just one Dutch yacht at anchor. thought there may have been more (later, we would find out the others moved thirty miles away to the other anchorage). We headed for the far right. As soon as the leak in Baby Beez is healed we will go over and say hello.
To the left of the anchored yacht and zooming in, we could just make out a wreck. This was a brand new catamaran on her delivery trip. The crew were ashore when the wind changed suddenly and boom, she was lost. Since then all visiting yachts have to have the clause in their insurance – wreck removal and clean up.
To our right a gang of common noddies fishing.
At a quarter past nine the anchor was down on our 302.6 mile journey. We slowed during the night to arrive in daylight but we still managed to average 4.188 knots, mostly under sail. 72 hours and 15 minutes of which we motored for 11 hours and 10 minutes, mostly to make water. Our total miles on the Indian Ocean is now 2648.8 nautical miles.
We are anchored in the bottom right corner of the atoll.
Bear giggling to be paddling.
The view to our right. Heavenly and no flies or mosquitos.
ALL IN ALL A STUNNING JOURNEY
---