A&E Steam Train Ride

Beez Neez
Skipper and First Mate Millard (Big Bear and Pepe)
Sun 5 Aug 2018 22:57
Andrew and Edward Buckfastleigh to Totnes Steam Train Ride
After our busy beach day yesterday we had a slack morning, after lunch we were all ready for a new adventure. Parking, we then walked over the footbridge and looked down on Buckfast Station.
After buying our tickets we bimbled about in the museum, learning flag signals aboard an engine called Ashley.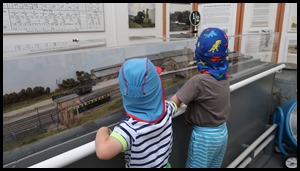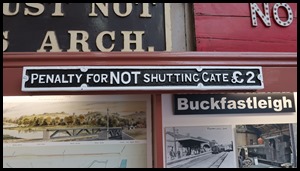 Plenty to take in until we heard the train approaching and rushed out to watch.
The boys chose the carriage at this end called Emma and we settled to watch the engine reverse ends.
Andrew was transfixed. We waved at the signalman, Edward and I pose.
Just a little boy in awe, trundling along.
The map. We made a brief stop at Staverton and on we went.
At Totnes Station we watched our engine chug down the track to change ends.
Boys in position for the inbound action.
Slowly into place, engineer coupled and sneeze................
Andrew jumped, crows shot off out of the tree, time for a cup of tea on the other side of the tracks.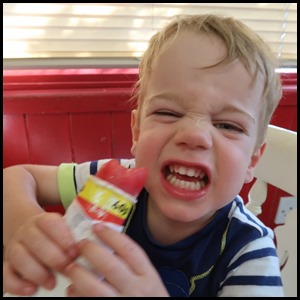 Grandpa indulged. The boys had a Calippo, Edward said "cheese".
After snacks we waited at the closed crossing gate for our train to pass.
For our return journey we chose a first class compartment.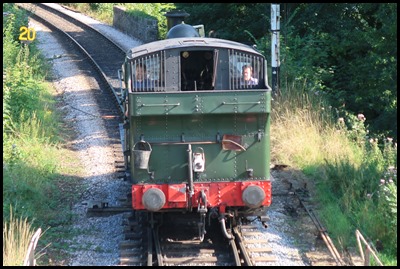 Back at Buckfastleigh, we watched the engine come from the front and below us as we stood on the footbridge.
The boys waited in amazement until the train set off.
Under she went. Edward could have stood all day.
In the corner of the car park Andrew met a new friend.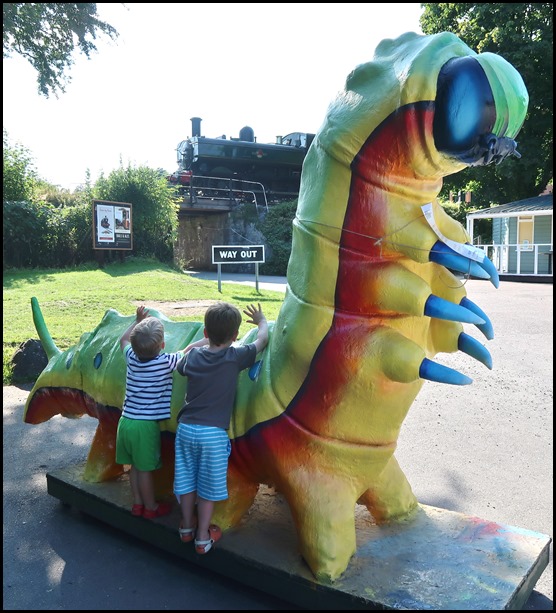 The boys stopped posing to wave to the next train.........
ALL IN ALL A GREAT EXPERIENCE FOR THE BOYS
GOOD FUN FOR THE GRANDPARENTS AS WELL
---