Mini Bus - Day Four

Beez Neez
Skipper and First Mate Millard (Big Bear and Pepe)
Fri 17 Oct 2008 22:45
Day Three
We were served breakfast and went off to make Sand Angels, something I had promised we would do. The wind would make them disappear but their charm and luck would stay with the camp forever. I had made them in Canada in the snow but never in sand. It was a completely new skill for Bear and he took to the task fervently.
My angel, Bear putting finishing touches on the pair ready to be photographed, Beds in the middle of Bear's angel. We put Rita's geode in as a makeshift heart. Final sweeping to get rid of our footprints.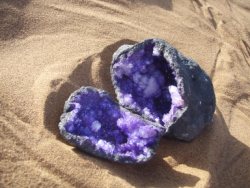 A close-up of Rita's geode, her favourite gem. We bought it on the first leg of the journey from Marrakech, we only saw two amethyst geodes, a few bright red and all the rest a grey-white colour. The sand angels beyond the boys checking the engine for the return jaunt across the rocks. The boys eating breakfast, wearing traditional Shoosh on their heads. I certainly did not expect a hug from a cat in the middle of nowhere.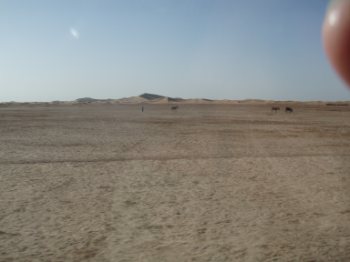 The very shallow lake is only here in the winter months. Wild donkeys trying to find a bit of scratchy grazing. These dunes are about three feet in height and move on a daily basis. Our driver has a built in GPS - thank heavens.
A caravan, you don't see many of these road signs in Plymouth do you ???. Bear adopting the pose, it is still quite sore in our memories today, our taxi driver Aziz, ( quick bit of advertising ). On our return journey through Zagora he stopped on the side of the road at a stall selling dates, he asked us "would we like some", handed over a box of the freshest, juiciest we had ever seen. We asked "how much" and were told they were a gift from his garden.
Lunch in Ouarzazate, same as on the way there. The pale sand of some of the Atlas Mountains. One of the hairpin bends.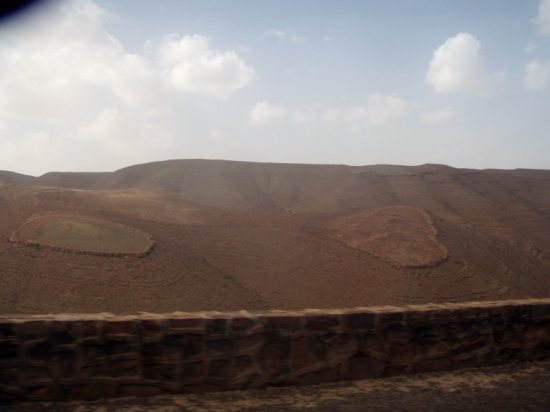 A good shot of the winding road. The locals say this is the HEART of the Atlas Mountains.
The High Atlas Mountains with their snow capping made for an exhilarating ride. If you cannot put your life in some strangers hands. If you are a bad back seat driver. If you hate heights and roads that have no crash barriers in places. If you hate being thrown around, get very hot and don't like loud Arabic music. If at any time you have had a bad lower back or at anytime suffered from heamorrhoids, DO NOT attempt this journey. If you can manage any of the list PLEASE do not miss this opportunity of a lifetime.
All in all a trip that can best be described as incredible. Stunning.
---