Beez Undercoat Ready

Beez Neez now Chy Whella
Big Bear and Pepe Millard
Tue 30 Jan 2018 23:57
Beez Neez Undercoat Ready and Some New Bits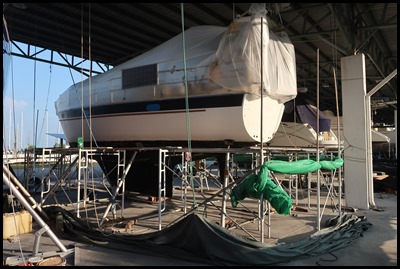 Thank you once again for Bear for bringing back pictures of Beez progress. This morning the beginning of her wrapping.
Bear was impressed with a fellow yachtie who made himself solid teak trestles and workbench, the marina cat photo-bombed.
As more plastic sheeting was applied by Jimmy's men the temperature in Beez shot up.
All the headlining and removed cupboards are under wraps. A very bare cockpit instrument panel.
More plastic, naked chartplotter stand and a big box of old electrickery.
The new brain for the autopilot, too big to go in the original position. To the left of the jug is the new solid-state compass.
Lots of wiring in the space above the engine. Desk area of office still looks familiar.
Upright office cupboard. Lots of old wiring removed and new in, looking very neat boys.
New stereo radio in lounge but still not powering off.......
Big boxes still full.
Late afternoon Beez is all hidden from view on both sides.
I think this picture is all about reassurance. This girl has been on the hard for about a year and today she went back into the water all prim and beautiful............. Yes indeed, very reassuring.
ALL IN ALL THE BOYS ARE ALL DOING A REALLY GOOD JOB
FANTASTIC TO SEE MOVEMENT AT LAST
---