Memories of Saint Lucia

Beez Neez
Skipper and First Mate Millard (Big Bear and Pepe)
Sat 28 Feb 2009 16:07
Our Memories of Saint Lucia
We arrived in Rodney Bay, Saint Lucia a couple of days before the arrival of our very first visitor, Miffy, who spent a week with us.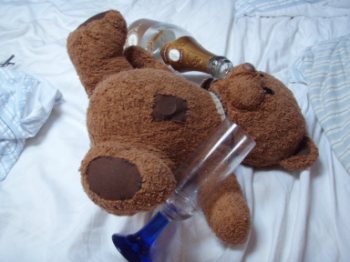 First things first. The Champagne Celebration for crossing the pond and finally being in the Caribbean 'proper'.
Our date at The Edge. Miffy arriving and the amazing story of this little, 15 footer all the way from Finland, who single handedly crossed from Las Palmas to Rodney Bay in 27 days, rolling over twice. We salute you.
We have met some smashing people. Vision who cleaned and polished Beez Neez, spending the whole day and charging us £15. Sophie in the marina office who has been incredibly helpful, ditto Diane in the marvellous chandlery. The locals are VERY friendly and welcoming, not at all pushy or threatening compared to previous places.
Miffy and his foot in a photo he took from the top of the mast, Bear took this picture of Miffy and one of the marina. We had a smashing week with Miffy but it went by so quickly.
Miffy took some great shots while he was with us, explored and my favourite photo - crab.
Miffy took this lovely photo from 'up the mast'. We had an enjoyable day out on The Brig Unicorn, stopping at Soufriere Bay.
We were invited to lunch at the beautiful Landings development by Pam and Gary Lenden (friends from Plympton) who have a stunning apartment there.
Bear and his new baby. Our previous dinghy Bear had thought was the best as it was called Pacific, made in New Zealand and therefore what we needed. During our stay here he saw degrading and after a visit with some other yachties to the warehouse of Francis, orderred this beast. He has fitted planes to the engine, smiles like a Cheshire Cat and promises me this is built to last and as it is made of Hypalon will take the UV. "We'll see". Definite risk of a 'Janet and John' incident if it doesn't.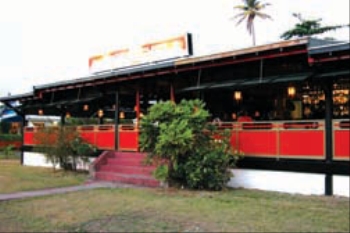 Some of the time here has obviously 'taken its toll' on the Skipper. Peter (Troutbridge) his crew Helen and us awaiting our 'pram' on our day out to the rain forest. We all went to Memories of Hong Kong as I needed a fix of Chinese food.
Veteran chef, Yee Leung, had been putting his extraordinary skills to the kitchen test for fourteen years in London. After visiting St Lucia, however, he decided to pull up roots and transplant his operation to Rodney Bay. He has now turned more to the overall managerial aspect of the business and has placed another experienced and highly competent Chinese chef in the kitchen. Shrove Tuesday saw us eating pancakes on Troutbridge, where Pete, the virgin pancake maker impressed us greatly.
ALL IN ALL a very happy place we have thoroughly enjoyed. We leave here at 18:00 for the sail overnight to Dominica, sadly passing Martinique due to the troubles and strikes.
---