Lifter Returns

Beez Neez now Chy Whella
Big Bear and Pepe Millard
Tue 20 Jan 2015 23:57
Lifter of Opua Returns with a New Block
There I was sitting staring at a spreadsheet – Bear had gone off to see an electrickery man ashore. Suddenly there were clanks and groans, Beez shifted a few feet and I shot out like a meercat to find Lifter settling in beside her friend, a new block on board.
Within minutes Chris and Matt got to work. Bear got home finding it hard to dock with Baby Beez as we were wiggling about a fair bit. Up and down went the piles in the front corners, once secure Chris swung the crane into action.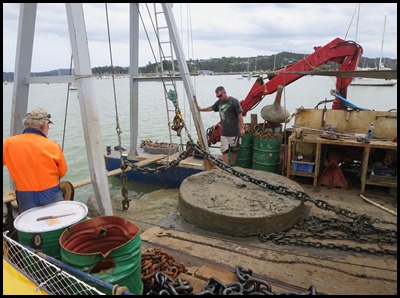 Quite something to watch the old block appear.
Once aboard Lifter Matt went to work.
Our old block shows wear on the fixing hoop where the chain attaches to the two ton concrete block. The boys measured it on Monday and it was shy by 5mm.
Matt put a new shackle on our new block and welded it shut.
All done, down went the new block.
With a wave, they were off.
ALL IN ALL SOMETHING VERY DIFFERENT TO WATCH
VERY QUICK FIX
---