Togee and More

Beez Neez now Chy Whella
Big Bear and Pepe Millard
Wed 5 Nov 2014 23:27
King Togee of the Butheroe and Onward
We jumped up very excited this morning, Chris and Sue were taking us two hours away to pet koala bears, I know they're not bears but koala on its own just doesn't sound right.
"On the way we'll stop at King Tooghie's grave," said the Laird of his Manor. Side note - The rules of the Manor are long, exhaustive and ........but I digress.
Me being me, I wanted to know the ins and outs of the said man before I set off and went to look him up on the great World Wide Web. Google failed to find the man himself but quite swiftly up came a very helpful did you mean Tooky, I pressed the word, now knowing my brother to be of equal stature as Bear in the spelling department I should have proceeded with caution......... but I was surprised when a lady of very ample proportions and not a stitch of clothing on filled the screen. Oh-oooooo.
My dear brother thought I was being lame in the search department and disappeared into his man cave. "I'll be back in two minutes with all the info you'll ever need on King Tooghie." Eighteen minutes later I dared to enter the sacred space that Sue only hoovers as far as she can lean from the doorway and commented that I was pleased I hadn't been holding my breath. Of course there were excuses and that actually Chris had been trying to find a picture he had taken standing on the back platform of the incline railway in Tasmania where the train and carriages can be seen from his said vantage point - take a breath. Several pictures later I got to see an incline railway track going uphill, not a structure of propulsion or transportation to be seen anywhere. Where's the train. "Someone stole it." I feel a pattern beginning to emerge methinks................
Australia is the planet's sixth largest country after Russia, Canada, China, the USA, and Brazil. At 2,969,907 square miles, it accounts for just five percent of the world's land area of 57,702,968 square miles, and although it is the smallest continental land mass, it is the world's largest island. The UK is lost in the vastness, Europe and the USA hold up against the sheer size of Australia.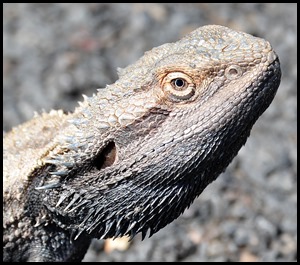 All bundled in the Beast, off we went. Having sacked Chris in Sydney as Lead Tour Guide he reinstated himself to the job and provided a really interesting commentary on what we could see as we went along, even stopping for me to take a picture of a sunbathing lizard, actually admitting later that he had hoped it was a frilly one, but at the time telling me off for encouraging said creature to scurry from the centre of the road, well I didn't want my new found friend to get run over and become somebody's lunch. Next this fairly new to the 'Barmy Army of Readers to the Blog' presently stopped and pointed out our first Australian One Careful Owner.
Half an hour later........there he was............that'll be King Togee then..............."Rrrrrghhhh" Yaama – Welcome
King Togee's tomb and stone.
Regional New South Wales is rich and diverse in Aboriginal Cultural Heritage and evidence of traditional occupation in this area can be found in the form of scarred and carved trees, campsites, rock art and rock engravings which are located in the areas surrounding "Butheroe".
The grave of King Togee is to be found just shy of thirty kilometres west of Coolah on the left-hand side of the Neilrex Road, just past the 'Langdon' homestead.
King Togee was regarded as a great leader of his people, he was a big, powerful man, standing over six feet tall. Togee was King of the Butheroe tribe when Mr. James Vincent made Butheroe his head station around the 1850's. Togee lived there with members of the Gamilaraay Tribe until he was a very old man when he unfortunately encountered a young tribesman called Cuttabush.
King Togee was talking to Mr Joseph Nevell one day, who also lived in Butheroe, and told him that he was afraid of Cuttabush, a young Gamilaraay Warrior who lived in the Coonabarabran Pilliga Region who later became the king of a Coonabarabran sub-tribe.
One day King Togee was returning to his camp, Cuttabush speared him, he was carried to a nearby shed where he died.
The sandstone tablet bearing the symbols of a boomerang and nulla nulla together with the words " Togee, King of the Butheroe Tribe", marks his resting place. Mr Clarence Nevell paid a boundary rider, George Weatherly to cut out and erect the headstone in the early 1900's. The Nevell family also had a brass plate made for Togee, inscribed "King of the Butheroe".
Traditional Country: This land supported the Gamilaraay people who occupied a large area including the Namoi, Gwydir and Barwon Regions. The Wiradjuri people occupied country further to the south of Togee's resting place. Respect and Care for Country: The Department of Environment and Conservation responsibilities are to manage and protect Aboriginal sites under the NPW Act 1974. It is an offence to damage, disturb or deface any Aboriginal Site.
Traditional Burials: Immediately after burying the dead body the tribal people deserted the area; this was the procedure in all such cases, as they believed that the spirit of the departed would haunt them. Around the burial grounds the traditional people carved symbols on the tree trunks to show approaching tribal groups that they were entering another's country along with warning off people from tribal burial grounds. Some of these markings can be seen on Butheroe between Mudgee and Coolah roads.
Language: The Gamilaraay or Kamilaroi language is a Pama–Nyungan language of the Wiradhuric subgroup found mostly in south-east Australia. It was the traditional language of the Kamilaroi people, but is now moribund—according to Ethnologue, there were only thirty five speakers left in 2006, all mixing Gamilaraay and English. However, there are thousands of people of mixed descent both within the native populations as well as immigrant populations, who identify themselves as Kamilaroi. Kamilaroi is also taught in some Australian schools.
Some examples of words, first in Kamilaroi, then in the Anglicised and meaning:-
Bindayaa - Bindi-eye, the burrs of several plant species that stick to your feet.
Bagaaybaraay - Boggabri, having creeks.
Bagaaybila - Boggabilla, full of creeks.
Galariinbaraay - Collarenebri, having acacia blossoms.
Gidjirrigaa - Budgerigar, Burralga - Brolga and Gilaa - Galah, three types of bird.

Carved Trees: Carved trees are becoming rare in New South Wales as trees decay and fall over or are burnt. Aboriginal people used carved trees to mark burial and ceremonial sites. Usually a section of the bark was removed and a carving made on the exposed wood. These trees are still significant to particular Aboriginal groups.
Scarred Tree: Scarred trees are trees from which a section of bark and wood has been removed to make canoes, shields, containers – coolamons, and other utensils and weapons. Other trees have toeholes cut into them, for hunting possums or gathering honey.
We had a wonderful time at Waterways Wildlife Park seeing strange birds and creatures as well as emu, kangaroo complete with Joey on board and ending with simply the best experience – stroking the dozing koala bears.
Much of our two hour journey to the Wildlife Park was taken on long straight roads.......
.........a couple of these and lots of this.
We headed toward Gunnedah and stopped at Pensioner's Hill Reserve. Pensioner's Hill is bound by Farrar Road, the Oxley Highway and portions of Borthwistle Road and Lloyd Road. It became known as Pensioner's Hill during the Great Depression years although destitute families may have put their tent or 'hump' on this hill during the 1890's Depression, many certainly had to reside here in the Great Depression of the 1930's. One factor that encouraged 'swaggies' and their families to camp on this hill was the open water reservoir – still located on the northern escarpment, which contained over two hundred and fifty thousand gallons and was built by the Railway Department in July 1915. The last resident dwellings were demolished by the local council in 1977 as they were deemed as unsafe and unhygienic. The Reserve was identified as being of both historic and recreational significance to Gunnedah.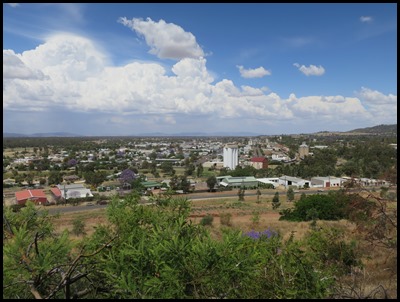 The view from Pensioner's Hill Reserve Lookout.
The 'thunderheads' we had watched as they appeared would later give a wonderful lightning show and heavy rain for an hour, eight millimeters in new money.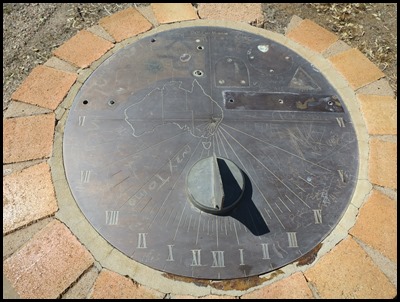 After stopping for a bite to eat in Gunnedah, our tour guide pulled over with the help of Bears GPS dongle cunningly inserted into his IPod, backup needed because the sign had been taken down, that we had indeed stopped at the one hundred and fifty degree longitude sundial.
Warrumbungles, what a great name.
We drove through Coonabarabran.
Dotted about the community are these massive planets, sadly the second one we stopped at was the same as this one, each planet has a factoid or three at the bottom. Saturn: In Roman mythology Saturn was the god of agriculture. A 'gas-giant' comprising 75% hydrogen and 25% helium. Saturn is the least dense of the planets. If you could find a bowl of water large enough, Saturn would float. It was first observed with a telescope in 1610 by Galileo. The rings are made up of millions of pieces of ice and rock. The gap in the rings, 'Cassini's Division' was discovered in 1675 by Italian born French astronomer Giovanni Cassini. Saturn has thirty four moons.
On our way home we stopped in Binnaway for a drink, I was almost tempted to buy a hat merely because it says 'Binnaway'. Final fun was having a dollar each which gave us five goes at the grab machine filled with individual sized chocolate sweets. The baby Crunchie bars were a good ballast as the grab dropped the said sweet on a ramp, then it slid down to a push platform, half of course fell back into the mix but half fell down the shoot. Out of our five dollars or twenty five picks we came away with nine 'things' or as Chris expressed "the dearest chocolate in Australia" it was fun though.
Back home it was a real joy to download the days pictures and of course the chaps stand out by many a mile.
ALL IN ALL A FASCINATING AND FUN DAY
AN EVER CHANGING COUNTRYSIDE
---