Joe et al to Eva

Beez Neez now Chy Whella
Big Bear and Pepe Millard
Tue 14 Aug 2018 22:57
Joe et al to Eva
Emmie (after her nap with Beds and Henry in our bed) was full of beans, but not to be messed with as soon as her pearls were in place. Quite a comic, she just managed to hold her strict face until she cracked up.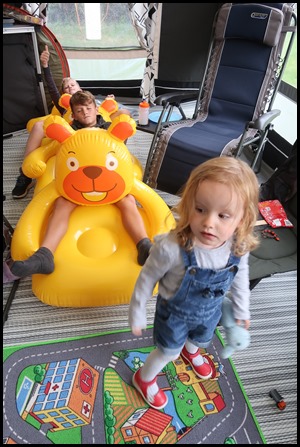 Waiting with Kaiser for the bus driver, Harry. The boys then had to rest until the new bus driver had had a snack.
Grandma had to steer using a plate as the wheel.
Grandpa and Harry went off for water as a fine rain began to fall. Our bird table outside has frequent visits from huge, fat pigeons and a myriad tits, sparrows and finches – so much so that back in Cornwall we refill once a week – here it's twice a day.
Joe, Vicks and Emmie left Harry and Kaiser with us for a couple of nights, should have been four but the boys are going to see Burnley play on Thursday evening. We were soon off to the play park and then to the river.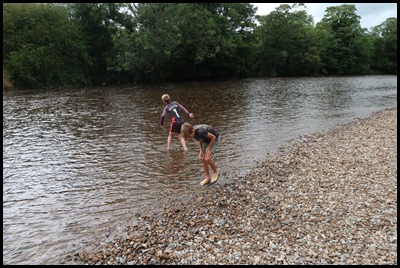 Finding the perfect skimmer proved a challenge, so much so, we ended up just chucking pebbles.
Kaiser so very nearly got his across to the far bank, Harry managed the feat twice. Then we played Football and Putt, the boys began at a flag and had to kick the ball onto the green and then hit the flag at the next hole and so on. We did all the holes and it was neck and neck until Kaiser squeaked ahead only to lose on the last putt. Such a good game, back to Eva for supper, games and the first half of Thor Ragnarok.
ALL IN ALL A FUN TIME
SO NICE TO SEE THE FAMILY AND HAVE THE BOYS
---