Our Christmas

Beez Neez now Chy Whella
Big Bear and Pepe Millard
Sun 25 Dec 2011 23:57
Our Christmas
The tree on Beez Neez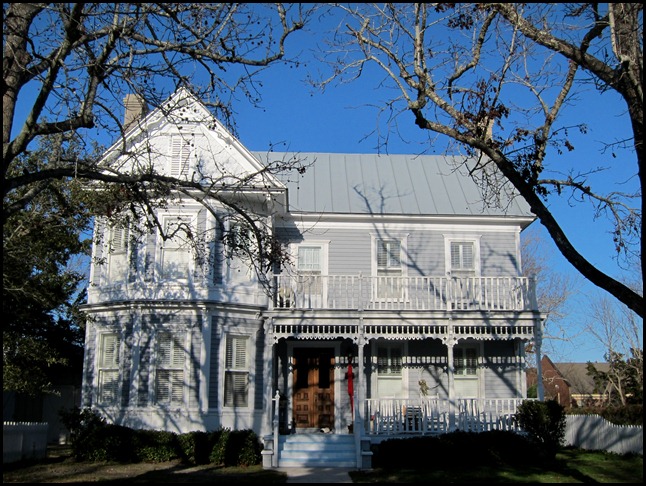 During our interesting bimble around Beaufort Museum yesterday I got chatting to one of the volunteer's – Jewel, whose husband Tom had taken us up to the roof of the museum to see the sights and point out places of interest. Jewel very kindly invited us over to their beautiful house for a traditional Christmas Eve supper of ham, sweet potato and all the trimmings.
The table looked a treat and one of the other guests was local authoress – Kay Salter, a wonderful dry-witted character, and friend of Jewel's since 1964. Also there was Kim's husband Jimmy, and other ladies of life-long standing - Sunny and Sandy.
After supper we didn't have far to roll, just next-door-but-two to Ann Street United Methodist Church for a carol service and blessing led by the choir in which Tom and Jewel are both members
I was more than a bit miffed. This is the first time in my life I have ever seen a Nativity setting with no black magi – shocking
A decorated Beaufort on our short walk home
This fabulous picture came from Colin and Ann – aptly showing Bear grazing and foraging in the fridge, this time with Santa.
So did we come up with a full Christmas lunch, people have asked if it could be done on a two-burner stove with a small oven – of course it can - with a bit of jiggery-pokery. I was cooking the veg as the family calls came in. I variously sobbed in the swede and blubbed in the bubble. By the time we rang Mum, I could get "Love You" out and no more before I went all unnecessary in the sprouts. Last year we were on board Flying Cloud and the year before away on Boa Vista in the Cape Verde Islands, this year I had way too much time thinking about who I was missing at home and what the grandchildren were unwrapping.
Thank you all for ringing, we wouldn't have missed a single second – not for the world.
At three o'clock our time (eight o'clock UK time) we settled down with a glass of rose and our meal. Bear had his turkey, ham, stuffing (with sausage meat), roast potatoes, swede, carrots, cauliflower, sprouts, sliced mushrooms in the gravy and grape jelly. With the leftover sprouts from yesterday (donated by Jewel), I whipped up a dish of bubble and squeak and I curried the sweet potato to try something completely different. I did forget to do little sausages wrapped in bacon and I really dropped a gooley when I noticed I forgot to do Bear's bread sauce. It was on my list and had been dug out of storage and put just inside the cupboard, near to hand. Never mind I'll just have to have the same again tomorrow with sauce. Boxing Day I scored ten out of ten, but had to look away as the 'wallpaper paste' bread sauce was demolished.
Ooooooh not for me, Mrs. But Bear was a chuffed captain.
ALL IN ALL NO ONE MENTION WIND
---