NTL Museum

Beez Neez now Chy Whella
Big Bear and Pepe Millard
Tue 22 Mar 2016 23:57
Newcastle Museum
After a morning of chores, we took ourselves off the the museum here in Newcastle. Of course my friend got his trigger finger out when he saw this behemoth......
...............not before he gleefully pointed out the first plaque, I added the second, just for balance.
Free admission to this fresh, modern building which opened in 2011, we began on the right. There is a display showing architectural designs of houses, a bit about local people and a few interesting bits and bobs. What follows is the 'stuff' we liked.
Bundy Clock. Honeysuckle Railway Workshops reached peak production in the 1960's when seven hundred people were employed here. They recorded their work hours on one of four time clocks, four times a day.
Getting into position was fun to watch as Bear climbs onto one of the original diving blocks removed from Merewether Ocean Baths when they were renovated in 2014. The baths are the largest ocean pools in New South Wales and are on the shoreline by Merewether Beach, a hours bimble from here. The baths are two concrete pool – one a children's pool a hundred by twenty seven metres, the other larger pool is a hundred by fifty metres. Construction began in 1928 and the baths were completed in 1935 and built by unemployed labourers as a depression relief scheme. The baths are an important centre for the community and a great place to exercise and enjoy beautiful surroundings.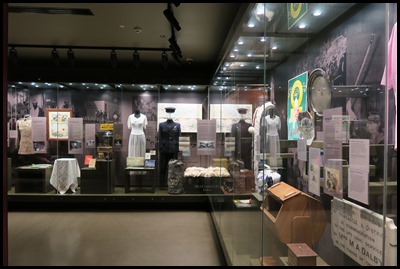 The next room, entered through a swish automatic glass sliding door, had all kinds of memorabilia from locals through the years but one thing drew our attention..........
Folk Belief. Not all of our beliefs take the form of organised religion. Some old religious practises have survived as superstition or traditional. Ritual objects were hidden in attics, chimneys and under doorways as protection against witches. This family of shoes, the most common type of concealed object, was found in the four corners of an attic in Wickham. Discovered during renovations, other Hunter buildings have contained carefully placed shoes. We blogged on such a shoe found in a pub renovation when we visited York.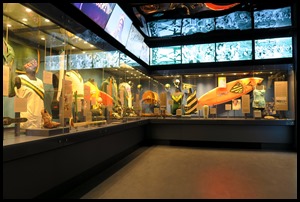 Opposite a display area entered through an equally swish sliding door, was split in half, the right containing mostly 'finds' of the local area, what caught my eye was a beautiful dress. To the left was a display devoted to sporting excellence and local heroes.
Local designer John Robinson and his sister Beryl owned and operated The Boutique, a Hunter Street fashion store. This particular outfit was made in just two weeks in May 1967 to exhibit in New Zealand. A beading/sequin specialist, who had previously been employed by the Queen's dressmaker, worked on the creation. The outfit was bought by Margaret Bartlett, the wife of a Newcastle doctor, who wore it to the opening of the Opera House in 1973.
The Robinsons were an artistic family, the children had elocution, dancing and piano lessons and their father wrote poetry. In 1955, John was in a serious car accident, which changed his life. He had a leg amputated, left his job as a drug salesman and went to both Art and Fashion College. John held fashion parades that became major local social events but The Boutique, which opened in 1960, closed after the 1989 earthquake.
The popularity of boxing increased worldwide in the early twentieth century as a combination of strict rules and publicity gave the sport a new respectability. For industrial Newcastle, boxing was a good sport to fit the tough and physical community. Many young men, like Maitland's Les Darcy, tried out their strength in the tent shows near Civic Park or later in the suburban gyms. Those with skill rose to the spotlights of the Newcastle Stadium, where the Sands brothers reigned supreme or for the lucky few, onto the world stage. Though the sport waxed and waned over the years, it maintained a strong base in Newcastle. Certainly, we have stopped to watch some young men as they have gone through their paces at a gym on our way home from shopping. Boxing Glove and Commemorative Shield. Dave Sands began boxing in Newcastle in 1943. By 1946, he had claimed the Australian Middleweight and Light-heavyweight crowns. Dave won the Empire Middleweight crown in 1949 and returned home from England a national hero. Dave Sands recorded ninety seven wins in one hundred and ten professional bouts, sixty three by knock-out. He held the British Empire Middleweight crown, the Australian Heavyweight, Light-heavyweight and Middleweight titles. Dave died in 1952 as a result of a truck crash while driving to his training camp.
John Bell Homemade Theatre 1949. Across from the sports memorabilia was a display of all things thespian. We sat and watched an interview given by John Bell about his beginnings with his homemade theatre – plasticine characters on the end of knitting needles, later hand drawn Shakespearean characters on on roll.
Now an actor and director John Bell was born in Maitland in 1940. He made his professional debut in 1963 after attending the University of Sydney and The Sydney Morning Herald called him 'a possible Olivier of the future'. Bell enjoyed success in England with The Royal Shakespeare Company until he returned to Sydney in 1970 as Head of Acting at the Institute of Dramatic Art. He co-founded the Nimrod Theatre Company and was its artistic director, director and principle actor until 1985.
The Bell Shakespeare Company was launched in 1990 and is dedicated to the ideal of unhindered access to the great classics for as many Australians as possible. As Australia's national touring theatre company, it tours every state and territory.
Shadows of Sacrifice: Newcastle's Great War 1914-1918. World War I lasted for over four years and caused the greatest loss of life in Australian history. The impact of the war in Newcastle and the Hunter is still felt today. Shadows of Sacrifice will follow general events of the war and focus on the lives of specific Novocastrians. From 2014 to 2018 the exhibition will change every six months to reflect the changing events of one hundred years ago.
From a population of less than five million, almost four hundred and seventeen thousand Australians served in the war. Ten thousand Hunter and Newcastle men enlisted and at least seventy five served as nurses. Australian war dead totalled sixty one thousand, five hundred and twenty. Many of those who returned were so damaged physically and psychologically that their lives were never the same.
The Evacuation of Gallipoli: As winter closed in the futility of Gallipoli became apparent. Fierce fighting had resulted in only minor gains. Men were being sent to hospital sick at a higher rate than those wounded. In November 1915 the decision was made to evacuate.
Withdrawal took place gradually to avoid suspicion. By December the 19th just ten thousand men held the lines. Early the next morning the last men sailed away. With only three reported deaths during the final stage, the evacuation was the most successful operation of the campaign.
In the nine months since the invasion began 7,594 Australian and 2,431 New Zealand men had been killed. Overall 115,000 British and dominion, 27,000 French and 250,000 Turkish and Arab troops were killed or wounded during the campaign.
Despite being a military failure, the stories of ANZAC comradeship at Gallipoli continue to define the Australian experience of the Great War.
Newcastle's War Memorial dedicated September 1916.
Death and Mourning. The Great War changed the way Australians grieved. The elaborate rituals of Victorian mourning were quickly discarded, seeming inappropriate and self-indulgent in the face of death on such an enormous scale. Personal grief became more private and community remembrance more prominent. With only one exception, no bodies of fallen soldiers were returned from World War One to Australia. Distance and cost prevented most from visiting overseas war graves. Novocastrians began building public memorials as early as April 1916. Inscribed with the names of those killed these memorials became a focal point not just for community remembrance, but for personal grief as well.

General Bridges. As Australia's most senior commander, General WIlliam Throsby Bridges was the only ANZAC to be returned to Australia for burial during World War One. General Bridges was shot and killed by a Turkish sniper at Gallipoli. Originally buried in Egypt, his remains were exhumed and returned to Australia for a state funeral in September 1915. Crowds gathered outside St Paul's Cathedral in Melbourne and lined train stations along the processional journey to Canberra.
Round the next corner was the Mook family. In 1891 the Newcastle Census listed the Chinese population as two hundred and eighty four men and one woman. In 1928 George and Mary Mook came to Hamilton from Darwin for a holiday and liked the area so much they stayed. The Mooks and their two-year-old daughter opened a Fruit and Vegetable shop at 37 Beaumont Street and lived over the shop,
In 1935, George Mook opened another fruit shop
at 93 Beaumont Street and lived above the shop. Mary ran an illegal 'starting price' betting ring behind the shop. The door between the fruit shop and the back room betting was guarded by eight-year-old Phyllis. One day she was distracted by her new puppy and accidentally opened the door to the police, which led to her mother being fined for illegal bookmaking.
In 1946 George Mook bought and rebuilt 91, 93 and 95 Beaumont Street.
In 1968 Phyllis Mook opened the Chinchilla Hair Salon at
91 Beaumont Street. Perms cost $4.99 and haircuts 80 cents. 2010 Soho Hairdressing is owned by Phyllis Mook's granddaughter, Bargain Books and Mayorca Boutique.
Round the next corner was this fine lady. Loved the 'Do Not Spit' warning and the wooden interior.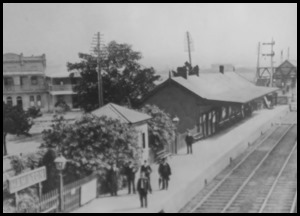 1857. The Great Northern Railway opened. Hamilton was crossed by two railway lines used for the Australian Agricultural Company's coal trains, but the public had little access to either. In 1861 Hamilton's population was 857.
1872. After lengthy public campaigning, two railway platforms were constructed on either side of the Great Northern Railway track on land donated by Australian Agricultural Company. Despite the construction of new platforms, no railway buildings were built.
1890's. Hamilton Station now had a booking office, a waiting room and a high level footbridge across the train line linking the two platforms. 1997 marked the centenary of the Hamilton Junction Signal Box built by McKenzie & Roberts. The Signal Box is one of the oldest surviving mechanical signal boxes in Australia and is also the busiest.
We crossed reception and found ourselves looking down a corridor, a train at the end. Stopping en route to admire an organ........ This pipe organ was located in the choir vestry of St.Augustine Anglican Church, Merewether. There is debate about the instrument's origins but it is known that from 1892 to 1919 the organ was in the drawing room of John St Vincent Welch's home on Sydney's lower north shore. In 1924, the organ was bought by the Merewether parish and installed in their church, where it has been in use until recently. St Augustine Anglican Church was built by E.C. Merewether and completed in 1889.
Our last stop was in the Science Displays with lots of buttons to press.
Bear lifted a car.
Then we built a Catenary Arch, following the numbered bricks, very impressive when we lowered the plastic support and it stayed put.
The Museum is housed in three buildings listed with the National Trust: The Locomotive Boiler Shop, the New Erecting Shop and the Blacksmith and Wheel Shop. The Honeysuckle Railyards in the 1980's.................
...............and the museum today.
.
ALL IN ALL INTERESTING IN A LOVELY BUILDING
A GOOD MIXTURE
---