Kwam Temple

Beez Neez
Skipper and First Mate Millard (Big Bear and Pepe)
Sun 16 Oct 2016 22:27
Kwam Temple
Just as we stepped off the coaches the heavens opened but that couldn't dampen our enthusiasm, we were going to watch the traditional and very famous Lion Dance. Eighty three steps took us up to the Kwam Im Goddess Monastery built according to the existing landscape in the in the hilly Burung Mandi Village, Damar District. The local Buddhist community have been worshipping here for over three hundred years.
Half way up we passed the band sheltering from the rain, now heavy. At the top there was a brightly painted shrine.
The view from the top.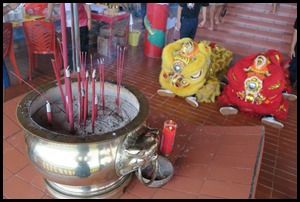 The lions were ready to do battle, yellow soon with the upper hand.
There was much flashing of eyelashes – complete with fluttering eyelids........, tail waggling and then came the rear and pummel. I thought how unlucky it would be to be behind Bear after a stiff curry washed down with a bottle of red.........
Stomping and huffing until they eventually made up.
Afterwards we posed with our favourite lion.
We waited for the lions to give praise to the altar, then went to explore inside.
A cheeky look as we headed up the steps.
Many statuettes of Kwang Im who is believed to be the highest goddess in the Buddhist belief.
Incense sticks and paper wrappers by the thousand.
We enjoyed the lamps, candle holders and male altar.
The fruit offerings and then an invite to the main altar.
Clacking of sticks, waving of lit incense sticks, we enjoyed the candlelight. Time for a group picture.
As we left the lions were happy to pose for us.
The picture that would be used on the front cover of tomorrows local newspaper.
ALL IN ALL A COLOURFUL, TRADITIONAL AND LOVELY
VERY SPECTACULAR DISPLAY
---