Long Bay

Beez Neez
Skipper and First Mate Millard (Big Bear and Pepe)
Thu 25 Mar 2010 23:39
Long Bay, St Martin
A good reason to be on a marina every so often is to have internet access to catch up putting on blogs. Here in Fort Louis there are so many posh boats with their own set-up and so many users using the marina band width, it is a real struggle. The best time is during the night, so a night owl, red-eye for me. Last night the office had a power cut, no-one there to flick any switches, so no internet for me, back to bed then.
This morning Bear went to the lady in the office who was very apologetic and said it was hopefully a one off. Whilst I fought to get on-line to catch up with twenty emails Bear went to hire a car for the day. I gave up at eleven and off we went to find a toy shop for a few bits and bobs for Jack's arrival next week, an expensive stop at the chandlers - It's all essential stuff, you know - "Yes Dear". Then off to find Long Bay as we didn't find the time the last visit to St Martin.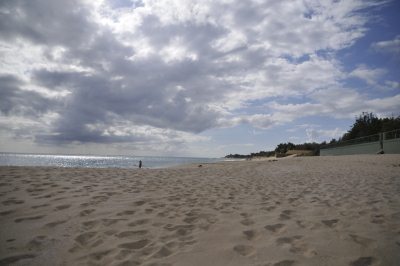 What an unexpected find. We hadn't associated St Martin with huge stretches of sand.
As you can see the crowds were upon us
The real reason to visit this particular beach was to take pictures of La Samanna, in the 1000 places book
We enjoyed a long dip and sat for the afternoon watching the world go by
Later on a sunset booze cruiser came to make a good focal point
After the deep, bright colours of such a sunset, we like to sit and watch the sky turn softer hued, followed by the muted tones before the nightfall
ALL IN ALL A DAY TO REMEMBER .
---