To Our Family

Beez Neez now Chy Whella
Big Bear and Pepe Millard
Wed 4 Jul 2012 22:27
To Our Home in Antigua, Guatemala
Our House
Inside, Mama (Jesus) our hostess. Tony (our hostess's daughter and very good with her English, had gone out in her car when I took this picture but she had been there to welcome us with huge smiles), and the maid (Yanira) also. Later we met Victor – Mama's son, who pops in every evening to help with his dad, who is poorly in a wheelchair (elderly and we have not met, yet). Victor teaches English to Primary School children and told us when we asked about holidays, that term finishes in October and returns in January (summer here). This technically is winter and the rainy season but the temperature is just right for us, a cardigan in the evening is all I need.
Our room to the end of the inner terrace on the right. Beds settled in easily, cupboard to the right of the picture, shower and toilet to the left. We washed and were soon sitting in the dining room with Sam (an American living and working in Panama), sadly he leaves on Friday. He was here perking up his Spanish as he works in an English speaking world and wants to become fluent for out and about. We had vegetable soup, beef stew and rice followed by ice cream, very delicious – if all our food is like this we will be thrilled. A couple of hours rest and off out to explore.
Standing with our front door behind us looking left. A few steps from a burger / chicken takeaway, opposite a Chinese
Looking right with a furry roof nearly opposite. Marvelous.
A definite contender one day for the One Careful Owner........
..............an actual entry just down the road on the way in to town. And for sale, must remember to enquire about the price...
The blue arrow is our home, the yellow – school and red – the ice cream shop
School by the first lamppost – ice cream shop, dangerously close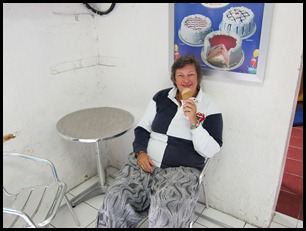 I sat with my wonderful Café ice cream while Bear was served with his Ron Con Pasa – rum and raisin (are you going to write blogs in Spanish) don't be foolish, Bear. My ice cream is far too delicious to go wasting it on the top of your head but the thought is there. Served and paid we bimbled across the road and sat outside La Merced Church and enjoyed.
Watched as a man wandered up and down on a roof
Stood as the funeral procession of a child went by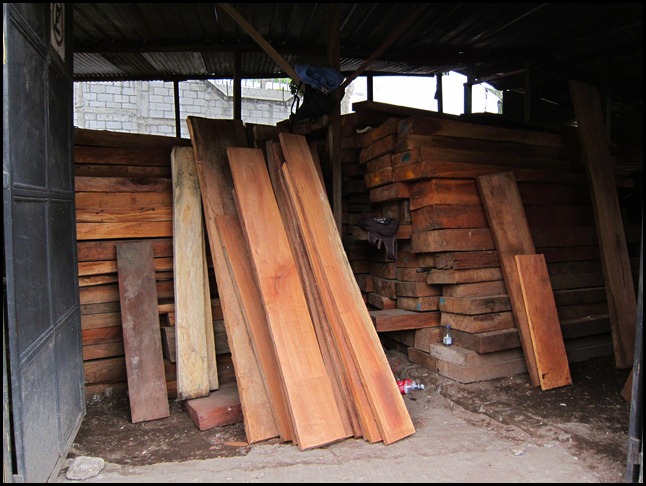 We found a tiny shop and bought some Diet Coke passing this teak shop that smelt wonderful and went home to learn our verbs. Gulp.
ALL IN ALL SETTLED IN NICELY
---