To Deshaies

Beez Neez
Skipper and First Mate Millard (Big Bear and Pepe)
Sun 30 Jan 2011 23:51
Leaving Iles des Saintes for Deshaies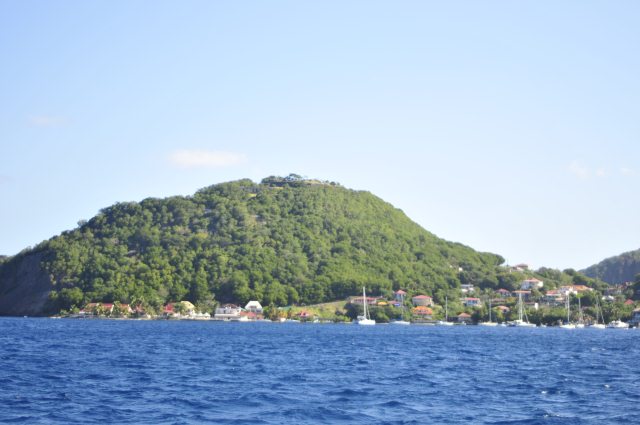 Up and ready to leave the Iles des Saintes by nine thirty, motoring past Nimue to say our final 'Bye-Byes for now - hopefully we catch up again in the Bahamas in March. Full sun and hot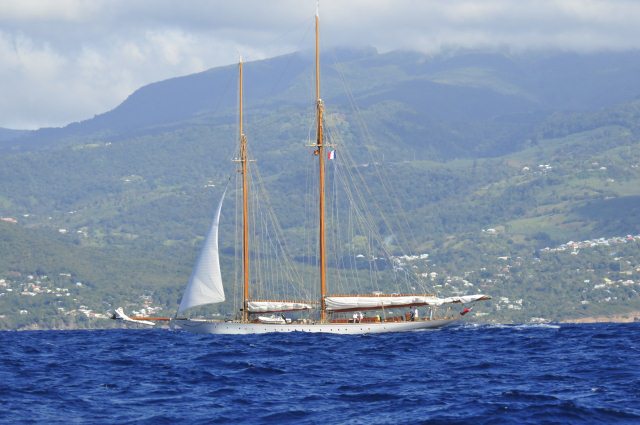 Soon out in the channel we didn't mind this beauty overtaking us
The coast of Guadeloupe only three miles away, very strange wave patterns though
We had forgotten just how big an island Guadeloupe is
Sunday fun as we rounded the corner to hug the coast en route to Deshaies
When this little girl passed by I was so busy taking her picture, forgot I was topless. The crew liked it though. "Thanks Bear"
Just as we were admiring the rich coastline the wind died to three knots, engine on, Genoa in (front sail) and short, sharp gusts up to Force Eight. Weird
Nearing Deshaies we saw what pirates would have been seeking
Akula - a big girl we had seen on the Iles des Saintes
We anchored in the bay behind Cattiva (met in Bequia) - must say 'hi' tomorrow, for now late lunch and some games
A Cuban band was playing in Hemingway, a nice accompaniment to lunch. The high sides of the bay, the shape of the mountains behind make for mega winds. They are noted in the guide book as being so massive you think there are storms out at sea and you stay put at anchor, once you stick your nose out of the bay all is calm and quiet. It is in fact a local wind from the Trades that come from the north east called Alizes. Despite the gusts the water remains flat calm, which is great after the washing machine we were in in Bequia and a couple of rolly nights we had on the Iles des Saintes. Now for some serious play. I'm sick of losing at Backgammon, I can only assume my luck MAY change when we have played enough to turn to a new score page in the record book. Still I am thrashing him and winning rude amounts of money at Rummikub HUH - Hey I may be down on the score but I'm still up in dollars with Backgammon DOUBLE HUH.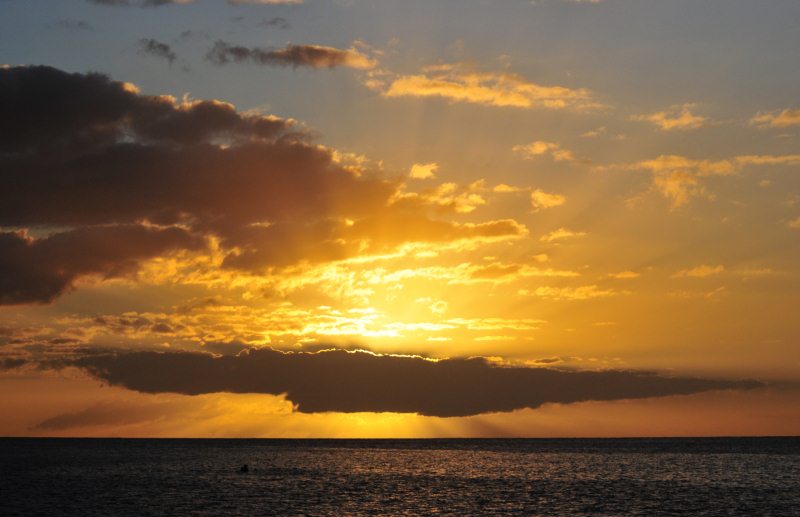 Well at the end of a good day, a lovely sunset, piano music from Hemingway, it's time to watch a movie, not done in the fun month we have spent with Nimue. Bear's turn to choose. Avatar, one of our one pound bargains from Trinidad.
ALL IN ALL A WONDERFUL DAY
CRACKING SAIL ACROSS THE BAY, WIND A PAIN IN THE LEE OF THE ISLAND AS USUAL.
---