NYE in HCMC

Beez Neez
Skipper and First Mate Millard (Big Bear and Pepe)
Sun 31 Dec 2017 23:57
New Year's Eve Fireworks in Ho Chi Minh City to See in 2018
Throughout the day we had watched the traffic build up on the road below our balcony at The Majestic Hotel. This ambulance, blues and twos doing their lights and noise with great gusto – did the traffic part to let it through ??? NO, not a chance, no yield of even an inch. From first hearing it to it disappearing seemed to take such a long time. Fingers crossed for whoever was on board or keenly awaiting its arrival.
By seven thirty things were at virtual gridlock.
By a quarter to nine the roads were closed, the near lane cleared quickly and people began to appear, the far lane took longer to empty. Launch site lit up and ready for action. To our right the crowds were packing in.
To our right a news crew went up in a cherry picker to do their checks. Looking down at the crowd we were very grateful not to amongst.
A few seconds before midnight we 'felt' the crowd, heard them cheer and off we went. Fifteen minutes of fireworks. So very pleased we didn't come last year as the government didn't allow them. This was going to be very good.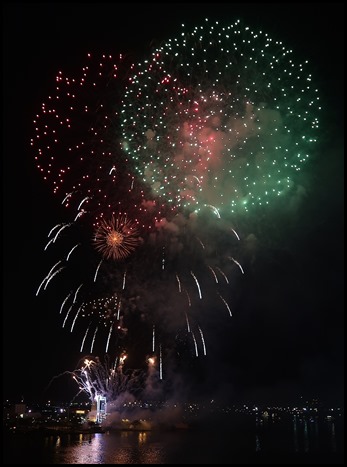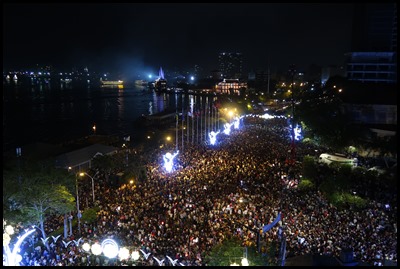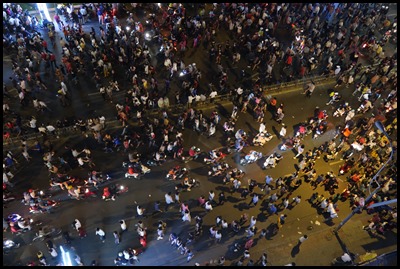 The crowd clapped and cheered and we watched people that moved like the sand in an egg timer.
ALL IN ALL A REALLY TERRIFIC SHOW
AWESOME, A FANTASTIC TIME
---