Dove Lake Circuit 2

Beez Neez now Chy Whella
Big Bear and Pepe Millard
Mon 25 Jan 2016 23:47
Dove Lake Circuit – Second Half
Half way around Dove Lake, we could be in so many places, Switzerland, Austria, Scotland....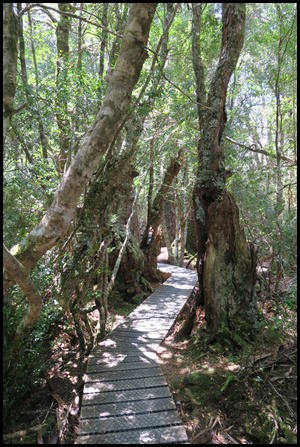 Up some cheeky steps, along a metal track and into the tranquil Ballroom Forest, along the western shore of Dove Lake.
Cool and damp with little sunlight in parts, where are the elves..........
Dove Lake looked beautiful from here.
At the top of one hundred and eighty five steps, I failed to see the words 'easy' as anything but a falsehood..........
From higher up the lake looked lovely but the way back down was loose shale. Nothing my trusty flip-flops baulked at but elderly people on walking sticks would struggle. My knees aren't too thrilled at the minute.
A bit of entertainment to uphold the spirits........... Mmmmm.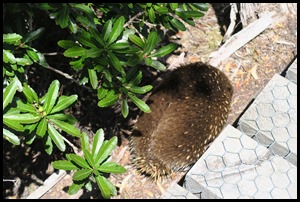 A chap to keep us company.
Last bit down to the Boat Shed.
The most photographed view.
Glacier Rock from the end of our circuit.
One last look at Cradle Mountain before heading to the bus stop.
ALL IN ALL VERY PRETTY, I QUESTION 'EASY' – A LITTLE BIT
BEAUTIFUL PARKLAND ON WELL MAINTAINED TRACKS
---